The impact of the Coronavirus Disease 2019 (COVID-19) has affected a lot of things in the economy. It has severely impacted the jobs and businesses of some people; it diminished economies; and it contributed to the fall and the closing of several businesses and establishments.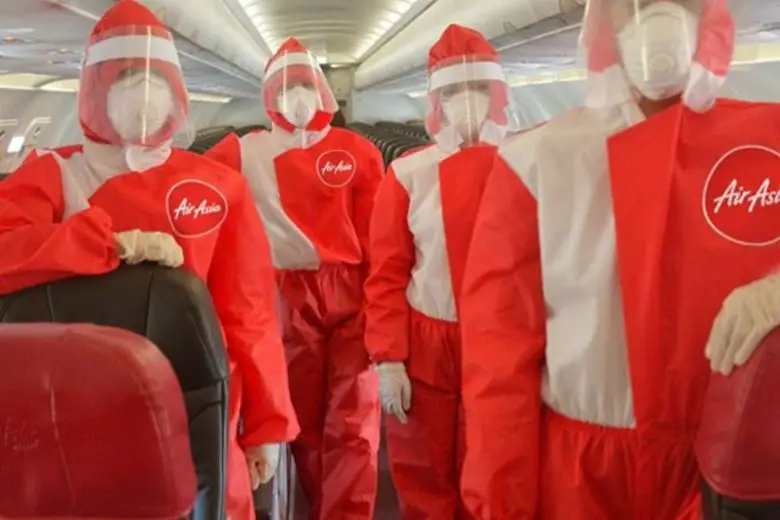 With this, several companies and agencies are trying to cope with the "new normal" just like what the situation demanded. This new normal would include:
Read: Luzon Quarantine Lifting if COVID-19 Antibody Becomes Available
The requirement of wearing of face masks
Social distancing
Hand washing
Bringing of alcohol
AirAsia to require wearing 0f face masks in boarding and in flights
AirAsia, one of the most famous airlines in the country, would implement several new safety measures once commercial flights are allowed to operate again.
One of the said precautions would include requiring travelers to bring a mask of their own and the proper wearing thereof before being permitted to check in; including during and after the flight, and even through check-in and bag collection, as stated by the airline.
Read: Learn to Invest After the Lockdown Through Enderun's Webinar Series
AirAsia also added that guests without a mask will not be allowed to board.
NOTE: If you are to fly, make sure that you have a face mask because AirAsia is strict about it.
Furthermore, the airline has taken to strictly facilitate social distancing during embarkation and disembarkation by limiting carry-on cabin baggage to just one piece not exceeding five (5) kilos per passenger. Web and mobile check-ins will also be promoted by AirAsia as to minimize social distancing through all means possible.
Checkpoints in airports and crew member measures
In addition to that different checkpoints at airports will host temperature screening including board gates. Seat-distancing will also be observed when flight occupancy to allow passenger to move within respective zones without fear as per the cabin crew's guidance.
Read: Taiwan to Accept More Filipino Workers After the ECQ
All flight crew will follow strict measures of wearing personal protective equipment (PPE) including masks and gloves. The airline has seen to it to uphold its name and logo by debuting protective suits against the pandemic for the cabin crew to wear.
Red Hot PPE suits
"Red hot" personal protective equipment for local and international flights have been made to fight against the COVID-19 virus. The custom was designed in collaboration with PueyQuiñones, a Filipino fashion designer.
Read: Best Tips to Disinfect Yourself When You Get Home From Outside
The suits have been ensured to be made of breathable yet sturdy materials without risking its capability for moving, said by AirAsia Philippines vice chair and majority stakeholder Sheila Romero, following that the fabric used was approved by the Department of Health or more commonly known by its abbreviation, DOH.
The PPE suits were launched during a recovery flight from Manila to Bangkok so it's going to be in use when flights are resumed
Romero added that the protective equipment are similar to what F1 race car drivers wear; adding that it is also chic and sporty.
Read: List of Best Smartphone Apps You Can Use During a Lockdown
Balance of fashion and endurance
Moreover, the balance between fashion and safety will define the new standards of flying as well. On another note, Romero followed that these protective equipment are also comfortable as the materials from which these are made are not too thick and heavy without compromising its purpose; the material gives justice to the design.
AirAsia has recently announced an extension for the suspension of its flight operations until May 1st, 2020  in the Philippines in accordance from the approval of authorities. But after it has been extended to May 15, the allowable time of their flights followed.
Airlines are among the businesses that the pandemic, COVID-19, has hit hardest. Singapore Airlines itself has announced the cancellation of 96 percent of its scheduled flights until the end of June whereas Richard Branson is reportedly searching for a buyer for Virgin Atlantic Airways Ltd. due to a confounding struggle of his inability to secure a 500 million pound (US$618 million) government bailout.
Read: School Year Opening in August – Planned by the Department of Education (DepEd)
With the mandatory wearing of face masks rolling when AirAsia flights come out, we sure need to be used to it. Other than these and the efforts that airlines are taking, it's something we should be wary of.
What do you think about the requirement about the wearing of face masks when boarding, riding, and getting of in an airplane? How about the Red Hot PPE suits that cabin crew members are to wear?
Everyone is concerned about the pandemic and it truly is something we need to consider. Always remember that even after the enhanced community quarantine (ECQ), the wearing of face masks would still be implemented.
Source: ABS-CBN News