With the wrath and quite possibly the worst stages of the pandemic, people are growing more frantic about everything that's happening. Millions of people are constantly with the worry about many different things.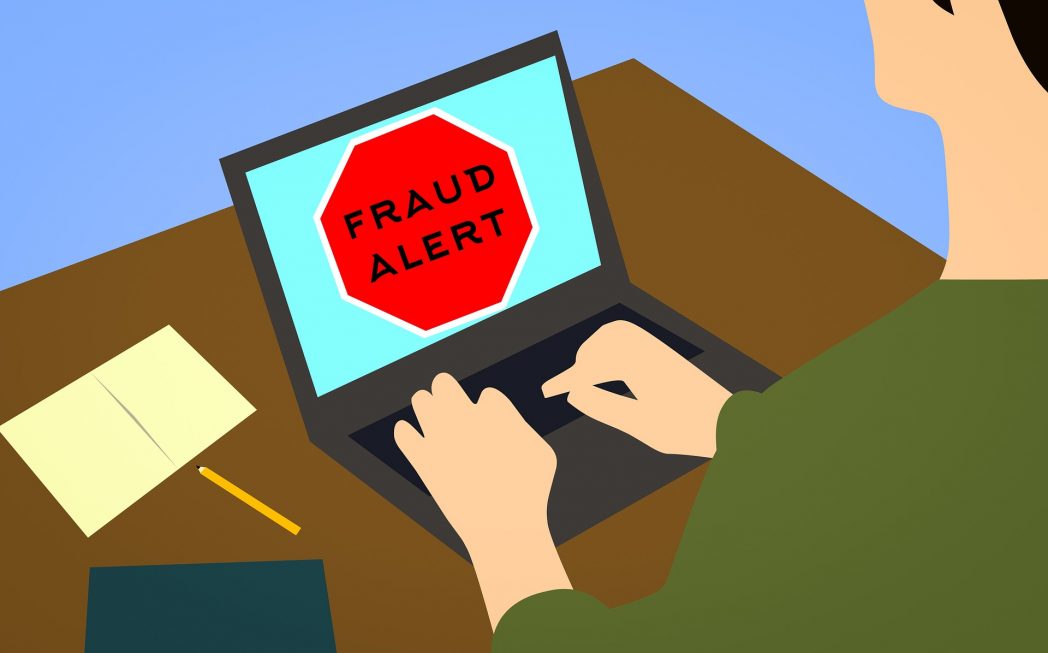 One of the most panicking moments that anyone could ever relate to is the fact that they'll not be financially capable. This could be anything from not having any type of earnings during the pandemic, as well as being robbed from.
Banco De Oro Unibank or simply, BDO, has sent a large response email to its clients. The email is making everyone aware that there is a phishing scam sent to people, specifically BDO clients.
Read: Investment Scams Online You Need to Watch Out For
Avoiding BDO-client scams
In the email sent was an infographic created by BDO. It detailed the information about how you can determine a scam from a legitimate and a real email. The image is as follows: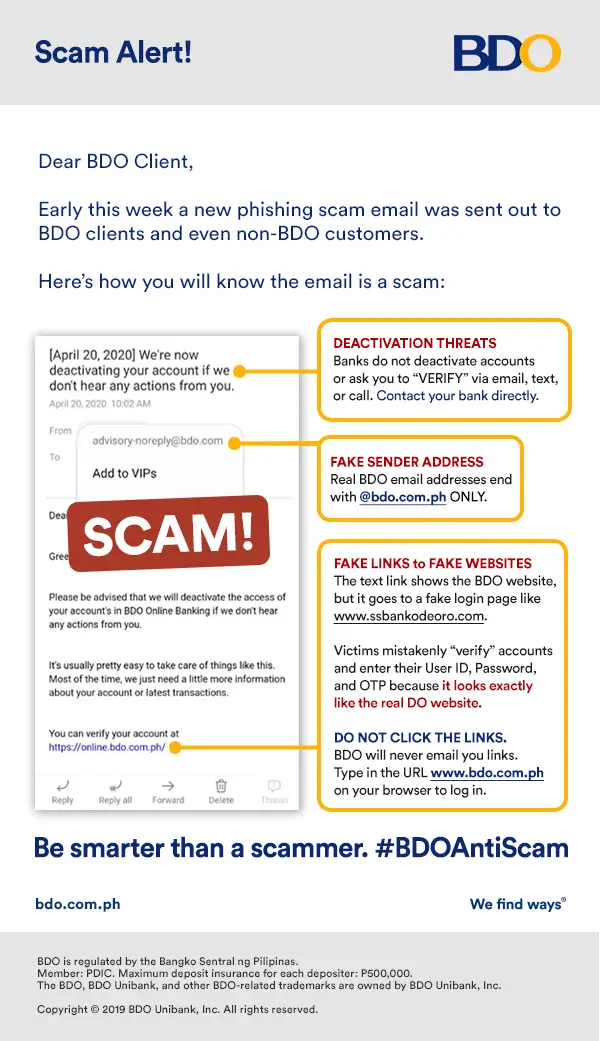 As you can see, there are tons of details that you'll notice about how this is wrong. To give them to you directly, here are some of the things that you can do to get help avoiding BDO-client scams.
Account deactivations?
Have you ever received an email about your account being deactivated? Well, according to BDO, banks would never deactivate accounts; they would not threaten you that they will deactivate your account.
Read: You Got Scammed – What Do You Do And How Do You Report Them?
In addition to that, they would also not ask you to verify information via call, text, or email personally. They would need to use their company mark to do so.
What to do?
If this troubles you, it would be best to contact your bank directly and ask them. And this doesn't just apply to BDO clients; it's for everyone, too.
Email address of the sender
Another thing that would give out the scammer is by checking their email addresses. By knowing what the legitimate email extensions of your banks are, you would know.
Read: The Most Used and Common Passwords in Social Media Accounts
In the image given above, the email address ended in @bdo.com; whereas, it should end at @bdo.com.ph – that's their only legitimate email address.
What to do?
In avoiding BDO-client scams as well as other types of scams, you first have to screen-check the legitimacy of the sender first. Check the email addresses and more often than not, scammers would have emails that end in regular personal extensions like @yahoo.com, @msn.com, and so on.
Some good scammers will try imitating email addresses but they wouldn't be able to do so. Double-check the extension of the email and put it parallel to the email sender who contacted you.
Read: Top Ways to Keep Your Facebook Account Safe From Hackers
Fraudulent links
If you're a user who utilizes online banking, then you most probably are aware of what the actual website looks like. So, one thing that would drastically help you in terms of avoiding scams is by checking the links they provide.
Basing the scenario on the image, the link that the sender has provided is ssbankodeoro.com; which is neither a substitute website or a legitimate website of BDO. This alone is proof that the email sender, the notice, and the thought of deactivation alone is fake.
More often than not, users are hacked because:
They click the link that the scammers are using
Then, they get redirected to a fake page of the bank – this too is something you should notice
From there, the user will fill-out the fields with:

Username
Password
One-Time Password (OTP)

The scammer would then have access to the user's banking information
Read: How To Check And See Fake Facebook Pages
OTP
You might be thinking how they get access to the OTP? Well, when you receive an OTP, it should state the registered BDO number; it's not going to be any random number. This alone is a sign that what you got is a scam email from a fraudster.
What to do?
NEVER CLICK ON LINKS. BDO said that they, just not sure with other banks, do not send links to clients. In fact, they are recommending everyone to type-in the real website which is bdo.com.ph.
Avoiding BDO-client scams can be easy to do for some; it has taken a lot from people and they actually are working for people not versed with how scammers and fraudsters work. However, these aren't just the scams that are out in the market.
Read: PWD IDs Are Free And They Are Not For Sale, Belmonte
In fact, there are a lot of different scams fraudsters do to phish and to hook clients. So, in order for you to be safe, you need to make sure that you stay vigilant. Keep an eye on information because that is how you will be able to track who's who.
In avoiding BDO-client scams, make sure that you follow us for more information on how you can avoid being scammed. There are thousands, if not, millions of scammers worldwide – it's never wrong to be much prepared.