Due to the pandemic, the Coronavirus Disease 2019 (COVID-19), hitting the world by storm; malls, concert venues, parks, even churches and other places for socializing have been shut down. People are forced to stay at home and to quarantine themselves, rendering at a loss for any type of social interaction. But now in modern times, many are not used to staying put; almost everyone is on the go.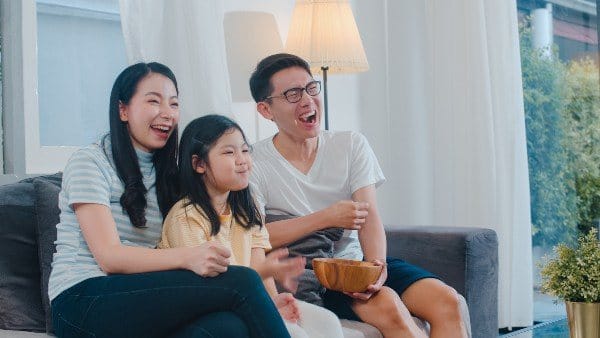 However, in order to be safe, people have no choice but to stay at home; and the only people allowed are those in participation in beating the virus. Everyone is in quarantine. Even students and young professionals must cope and adapt to it.
Read: The Best and the Most Useful Smartphone Apps You Can Use During a Lockdown
On the brighter side, life at home does not need to be all lonely and certainly should not mean as end of the world for young people when a dozen of new normal family activities are at reach to keep them occupied at home.
So how would you be able to cope with the new normal? What are some of the family activities you can do at home?
Exercising with your family 
In today's times with all that is going on, it is easy for people to laze around instead of keeping themselves fit. However in doing so, you aren't doing yourself a favor.
Adam Hawkey, an associate professor at the School of Sport, Health and Social Science (SSHSS) at Solent University in United Kingdom, advised to take brisk walks inside the walls of your home. This could include going up and down the stairs.
Read: The Best Lockdown Tips to be Productive
In fact, here are some of the best activities you can do:
Walking whilst talking to someone on the phone;
Dancing to lively music;
Getting into yoga;
Practicing Tai Chi;
Trying out home Pilates;
Exercises at home could also be some of the options.
Having no dumbbells at home is also of no excuse as big empty plastic bottles with water in it will do.
The Milo Sports Clinics Online
The Milo Sports Clinics Online has been newly introduced to the digital market as a way to make the fundamentals of sports more accessible to kids and parents under the instruction of professional coaches for absolutely no fee.
The weekly series of instructional videos is part of the Milo Home Court initiative as a way to incorporate into the new normal family activities. It hopes to inspire children and parents alike to channel their energies positively at the safety of their home, sharpen their skills safely, and nurture the lifelong character-forming values that are brought up with it including discipline, hard work, and self-confidence.
Read: Want to Watch the NBA 2019-2020 Season Games for Free? Here's How
In collaboration with expert coaches and notable partner organizations such as
The Best Center Inc. (notable graduates include 5-time SEA Games Gold Medalist Kiefer Ravena and national team members Juan and Javi Gomez de Liaño)
Philippine Taekwondo Association (home of SEA Games Gold Medalist Pauline Lopez), and Club Gymnastica (former training grounds of World Champion Carlos Yulo)
The sports clinics online will skyrocket a series of free training modules for kids ages seven to 12, teaching the fundamentals of four key sports: basketball, volleyball, taekwondo and gymnastics.
Starting Aril 20 to May 15, parents and their children may access these videos through their respective YouTube channels of the partner organizers: The Best Center (basketball and volleyball), Philippine Taekwondo Association and Club Gymnastica Ph. They may also check out the Milo Philippines Facebook page for official announcements and updates on the clinics.
Engaging in household chores – together
Cleanliness is at the top of one's priority especially during these trying times. Since young people have more stamina in doing physical activities, they may participate in doing household chores.
Some of the household chores that they can engage in can include
Waiting in line for hours at the grocery store or pharmacy;
Ironing the clothes;
Sweeping the floors;
Cleaning their rooms
Read: Making Your Own Hand Sanitizer? Why You Shouldn't Do It
This is a great way to bond because you will have the chance to teach your kids how to do it on their own. In fact, you may find interesting stories to tell them, too.
Finding a new hobby
Gardening, arts and crafts like painting, origami, sketching, drawing, embroidery and others could be some of the new hobbies to participate in.
Arlene Harris, in her blog, "Coronavirus: How to keep children happy, learning and entertained at home," suggested starting a mini-garden at home, cooking meals, baking, recording songs using free online software, even making home movies.
Read: How to Make Your Hobby a Living?
Assembly Grounds at The Rise in Makati allows mall guests to get into Gardening 101 with Jennie Agcaoili, an online series about growing plants while in the city.
With three (3), 45-minute episodes to be streamed from Assembly Grounds Facebook page, Jennie Agcaoili, nature therapy advocate and founder of creative nature business Plant Project PH, demonstrates to people how to utilize their time in quarantine by gardening. On May 2, there will be a webinar at 4 p.m. about "Re-growing from Kitchen Scraps."
Enjoying or doing arts and crafts
Kids from ages 2 to 12 may enjoy hours of craft making. This can include mazes, dot-to-dot drawing, and many other puzzles during this stay at home craziness as to ensure that kids also enjoy these new normal family activities.
Printable arts and crafts may also help in creating fun and engaging experiences to bond with your kids. Parents may choose from an array of activities suitable to their children's tastes and needs to cater to the best learning outcome possible.
Watching educational shows
Instead of watching shows that don't have lessons and morals in them, why not persuade your kids to watch educational shows?
Netflix, for example has allowed teachers to monitor documentaries within their classrooms through the years. To make sure that education does not halt during lockdown, Netflix has provided a list of 10 documentaries that can be accessed by everyone on the Netflix Youtube Channel. The streaming application also has a feature called "Netflix Party" to allow you to watch with friends.
Read: Top Movies That Can Make You Look at Life Differently
Sony Pictures Entertainment (SPE) also has recently introduced its new Youtube Channel, Sony Pictures' Kids Zone. They are offering children and their parents a one stop destination meant for new normal family activities as it includes interactive fun, physical movement, learning and hands-on activities.
Reviewing for the college entrance exams
Put your time to good use and adapt to the new normal family activities you can take. In fact, if your household has several high school graduates, you can indulge in learning entrance exams.
Due to school closures and the emergence of online classes, students can grab the chance of this lockdown to enroll in online classes that can help them gain a better leverage to being accepted into their chosen universities. Ahead Tutorial and Review Center, MSA, Brain-Train are some of the review centers that students may enroll in.
You can also try free courses offered by TESDA! Know more about it here: TESDA Offers Free Online Courses in the Middle of COVID-19 Lockdown
Learning a new language or skill
What's something that can be better than being generally intelligent? Learning a new language!
Young people may participate in online classes or watch Youtube videos on playing a musical instrument, learning a foreign language, digital marketing for beginners, and etc. Such examples are Class Central, edX and Coursera as the top platforms for online learning.
Read: Things That You Can Do on the Internet When You're Bored
Learning a new language can bring more benefits than you imagine, Take this time to learn more during this time of quarantine!
Enjoying board games
You can take this opportunity to stray from using your smartphones all day – you can enjoy playing some board games with your family members!
For the enjoyment of everyone in these new normal family activities, the bond with family can be strengthened through the entertainment of playing chess, Scrabble, Monopoly which may also help improve mental skills and widen one's vocabulary.
Attending online masses and prayer brigades
During this time of the pandemic, it is vital to strengthen one's faith and feed the spiritual self. Masses, in example, and various forms of praying can help us from falling into despair and depression.
Connecting with experts and other families
Today, May 2nd, at 8 pm, the new Huggies Club: Facebook Live that will be hosted through the Huggies Philippines Facebook page will provide a series of online forums that can help to guide expectant, new, and experienced moms through every step of their motherhood journey.
A medical expert and a fellow parent will be featured in every session to cover different topics that can guide and equip viewers with useful tips and advice as they journey through the stages of motherhood.
Read: Facebook Messenger Rooms Now Available for Use
Star Magic has also recently rolled out videos in their YouTube channel featuring the bonding times of Star Magic parents Denise Laurel, Dimples Romana, Dominic Ochoa, MelaiCantivero and JolinaMagdangal with their kids.
This crisis can also be an opportunity to teach people to be more resourceful, more creative, and more appreciative not of the worldly riches but to the lasting spiritual treasures during these uncertain times.
What do you think of the new normal family activities you can take? The pandemic shall pass but keeping safe would seem to be the best and the top priority. Never take it for granted because you might regret it when it takes a toll in your or your family's health.