With the extension of the enhanced community quarantine (ECQ) until the end of the month, people are still prohibited to roam. What the Philippine government wants and needs is for everyone to cooperate; this simple thing is enough to stop the virus from spreading.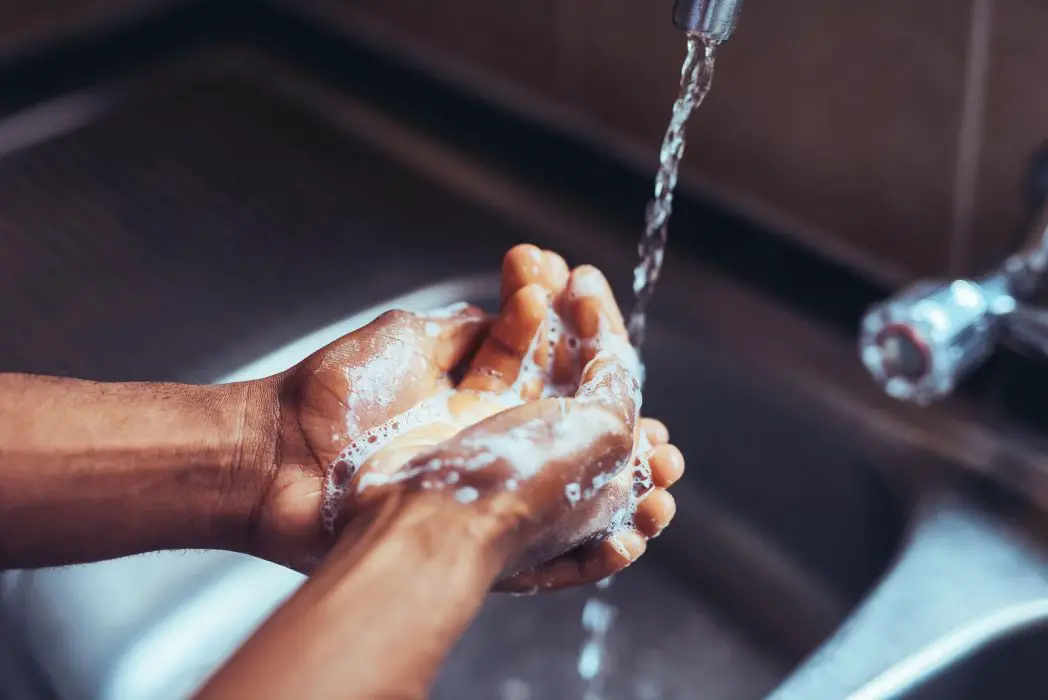 But given that situation, there are certain places and locations that people need in order for them to survive. These are places like drug stores and pharmacies, grocery stores, and banks; and in most places, regions, municipalities, and cities in the Metro have them open.
Imagine this scenario: you went outside to pick-up groceries and you get home -do you know what you need to do? Washing your hands isn't enough because apparently, the virus can attach itself to different things like money or cash, bags, shirts, even your shoes.
Read: Making Your Own Hand Sanitizer? Here are the Reasons Why You Shouldn't Do It
Disinfecting
The idea of disinfecting is by eradicating any place where the virus might be. In your case, the virus might have attached itself on your bag, your shirt, your jeans, your shoes – and even your keys and your money.
Good news! The Department of Health (DOH) offered some of the most effective and the best tips to disinfect yourself when you arrive home from a public place.
As you can see in this post, here are the images that dictate the best tips to disinfect yourself when you've gone outside. To help you even further, we've listed them in detail for you!
Read: The Best and the Most Efficient Smartphone Apps You Can Use During a Lockdown
Never leave the house when it's not an emergency
First things first, ask yourself: do you really need to be somewhere? Are you going to go get groceries and medicine for yourself and your family members? If it's not an emergency – say no to it.
Wherever you go, as long as it's outside – even if it's just in your neighbors; wash your hands properly when you get home. Wear a face mask and avoid touching your face when you're outside.
If you really need to go, then follow some of these best tips to disinfect yourself when you get home.
Read: Improvised Face Masks, Alternatives For Surgical Masks
Segregate your mask and your apparel
As soon as you get home, make sure to dispose of your mask and your clothes in a separate bin. Don't leave it with the dirty clothes you have just inside your home. Should your things catch the virus, at least it's not shared to other things in the house.
Make sure that your mask and your clothes are not mixed; segregate them and if you can, wash them immediately.
Leave your shoes and your slippers outside
Ensure to leave the shoes or the slippers you've used outside. There's a chance that they've been attached with bacteria and viruses (not just the infamous 2019 Coronavirus Disease or COVID-19).
So, leave them by your front door and wash it if you'll need it again.
Read: 55 COVID-19 Referral Hospitals, Set by the Government
Make sure that everything you had with you when you were outside are near the door
From keys, bags, loose change, and even your earphones, disinfect them properly by applying a 70% solution alcohol. Wipe whatever you'll be using thoroughly if you're going to use any of them inside your home.
It is also imperative to leave them just by your front door so they don't travel to any parts of your home. Keep them on a stored place, all of them, preferably in just one spot so you wouldn't wonder where the items are that you had with you outside and what you just have at home.
Read: People Are Now Required to Wear Face Masks While in Public Places
Properly wash your hands
Probably the most important part of the best tips to disinfect yourself is to wash your hands properly. Take time in washing your hands; wash it for 20 to 30 seconds covering your entire hand including your wrist.
When you're finished, wipe off with a towel or tissue paper and dispose it right away.
QUICK TIP: When you're at home, make it a habit to wash your hands frequently before eating or before you relax; wash it before you know that you'll tend to touch your face.
Read: Did You Just Lose Your Sense of Smell and Taste? It May be a Sign of COVID-19 Infection
Proper hand washing is the best way to get rid of the virus if it's on your hands; it wouldn't survive a 20-second correct way of washing so do it frequently!
Take a shower – immediately
Other than washing your hands, another thing that you can do is to take a shower immediately. Make sure that the clothes you wore during your trip outside is not going to be mixed with your home's dirty clothes and apparel.
Wash everything vigorously from your hands, your hair, your legs, and your feet; even your arms and your neck. Wash the exposed areas thoroughly for you to avoid any kind of transmission to your home.
Those are just some of the best tips to disinfect yourself. As you can see, bringing a 70% alcohol is not enough; you need to properly wash everything.
Read: The Best Mental Health Tips Offered by Psych Groups
Disinfecting your phone
Part of the best tips of disinfecting yourself is actually disinfecting your smartphone, too. It's with you when you go out and it's going to be with you when you get home. Most probably, you have touched it when you went out to buy food or medicine; or you may have accidentally touched it.
It's less likely for the virus to stick to it especially when you're not at all meddling with it but for extra safety measures, how do you disinfect it? There are tons of different ways on how you can do so online but what's the best and the most effective way?
Read: The Technical Education and Skills Development Authority (TESDA) Offers Free Online Courses in the Middle of COVID-19 Lockdown
In terms of the most effective way, there could be tons but here is how you can clean your phone; and we're not just talking about the COVID-19, we're talking all sorts of germs and bacteria:
Turn your phone off and remove it from its case
Spray Lysol or any type of disinfectant you have at home; make sure that it wouldn't sip through the holes of your phone
With the Lysol on your phone, gently wipe it with a CLEAN microfiber cloth; avoid the ports and the holes when you do so
Air dry it – it would only take about five (5) to eight (8) minutes
Wipe it with clean tissue or a paper towel to finish it up
Repeat the steps for the phone case if you have any
These are the simplest but the best tips to disinfect yourself and anything that you may have with you all the time. They're simple things but it can go a long way if you do it properly and correctly.
Most people aren't aware of this but the simple cleaning of the hands can free you from the dangers of the virus. Never disregard simple things like these because these are what the reasons will be for you to not catch the virus.
What do you think about the best tips to disinfect yourself? Be strict with it and we can guarantee your safety.
Source/s: Spot PH | Good Housekeeping