The extension of the enhanced community quarantine (ECQ) has brought about a problem to  the President and Chief Executive Officer (CEO) of The Medical City South Luzon (TMCSL) hospital, Dr. Cesar Ramon G. Espiritu. He was faced with the negative impact to which how the mandate has affected the psyche of his staff and the hospital patients.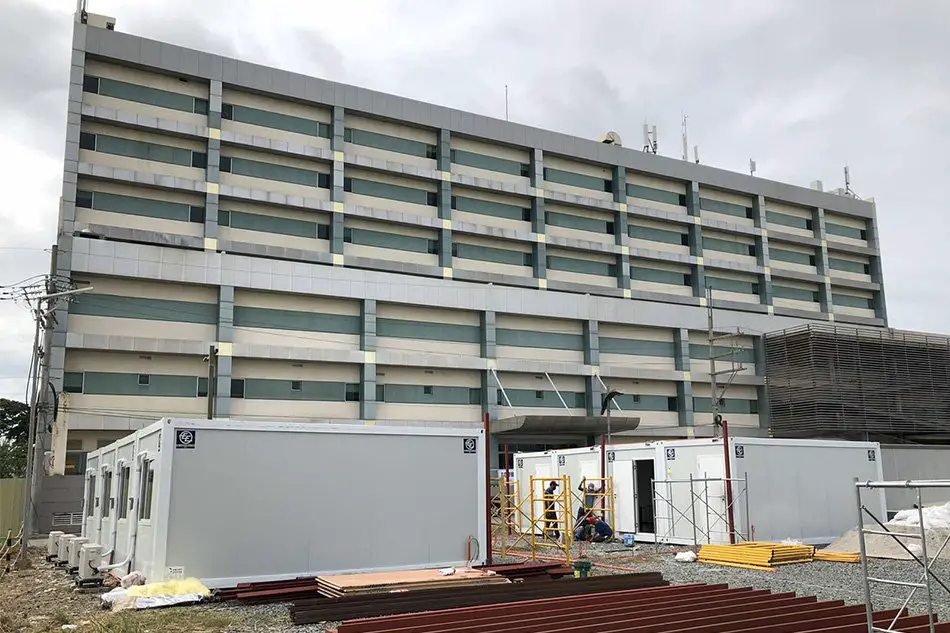 It was, without a doubt, the fact that many other hospitals including those within the province of Laguna were not ready — from facilities to the number of dedicated health workers — to treat patients who have been diagnosed with the COVID-19 virus.
It's because of the fact that the TMCSL was appointed as a COVID-patient referral hospital in Sta. Rosa as decided by the local government as well as leaders from different hospitals.
Read: Singaporean A.I. Predicted the End of COVID-19 in the Philippines
However, as the COVID-19 patients increased in number like in most hospitals, operations were halted and the non-COVID patients are being deprived of care in return. The surge of people began to take a toll on the healthcare workers who roamed the area.
A different and a separate facility
With this, Dr. Espiritu recognized and realized the need for a separate, fully-equipped facility to accommodate and provide care for all the COVID-19 patients.
This would then allow the main hospital building to be COVID free, resume its normal operations, and, more importantly, provide a safe facility for non-COVID cases."
Dr. Espiritu then sought out his first cousin, Levy Espiritu, an engineer, and Chairman of the Board and CEO of construction company DATEM Incorporated.
Read: COVID-19 Hotline, Established by the University of the Philippines – Philippine General Hospital (UP-PGH)
With this, construction materials were given and donated for the initiative; as well as the need for manpower. Furthermore, it was instrumental in the initial negotiations between TMCSL and another construction company, EEI Corporation.
Eight (8) smart houses in return were donated by the EEI Corporation which is headed by its President and Chief Executive Officer (CEO) Roberto Castillo. These smart houses are slightly smaller versions of shipment containers and are usually installed in construction sites as either an office or sleeping quarter.
Other forms of donation
Other people started to join the team within the next few days. Rynor Jamandre, neighbor and close friend of Dr. Espiritu, also an engineer, by his own initiative helped take care of the design and construction of a complex conceptualized to feature similar facilities as a typical hospital ward; whereas Michael Ray J. Infante, an architect, helped in developing the initial plans for the COVID-19 hospital.
Read: More Than 700 Doctors Give Free COVID-19 Online Consultations
At the safety of their houses, the whole team was able to come up with feasible plans, a strategy, as well as a design within a week. However, they were duly faced with three (3) major problems: budget, restrained movement due to ECQ, and time.
In hopes of seeking out more help, Engineer Jamandre told the team's intention to his friends to which colleagues, friends, and acquaintances. They alike responded by donating pledges, and in two days, 70% of their needs — money and materials — had been met.
Dr. Espiritu says that the local government and Sta. Rosa mayor Arlene Arcillas have shown their support by facilitating acquisition of permits for such needs as electrical power, aside from providing hospital beds.
Dr. Espiritu also asked help from Unity in Isolation, a charity group formed specifically to build Emergency Quarantine Facilities (EQF) for COVID-19 patients.
Along with their help, Dr. Espiritu and company have been able to fund an additional structure, which could house a total of 15 beds.
Read: 5 Million More Families to Receive Cash Assistance From the Social Amelioration Program (SAP)
Construction of the COVID-19 hospital
On April 6, 2020, the construction began and the entire project is expected to be completed on the first weekend of May. This means that the total building time amounts to only 27 working days. Even with the lack of resources, TMLC's feat comes close to Wuhan as sometime in February, the city — where the first cases of the virus emerged — built a hospital in 10 days.
This was a remarkable achievement considering that it started with no available funds, with the usual sources of materials closed, and with manpower limited because of the restrictions of the ECQ. In spite of all of these, people just showed up at the site bringing with them items that were on the list."
In addition to that, several construction companies and organizations also took action and cared for the labor fees.
Read: List of Government Cash Assistance Programs For the COVID-19 Crisis
The Complex of Hope
Complex of Hope, as named to the new facility, is the first COVID-19 hospital or facility devoted to the treatment of disease. It is equipped with the necessary machinery, tools, and equipment says Espiritu.
Adding to that fact is that it's headed by veteran staff and medical professionals.
It is also separate from its mother hospital."
The complex is equipped to accommodate a total of 26 patients. Furthermore, it also contains a four-bed Intensive Care Unit (ICU) and a detached facility for staff quarters. Adding to their essential equipment, the Department of Science and Technology (DOST) Regional Office for Region IV-A granted TMCSL's request for 12 RxBox telemedicine units, which will allow them to access and process data from COVID-19 patients remotely.
Read: The Pag-IBIG Fund 3-Month Moratorium FAQs: Who Can Get it, How, and Other Questions, Answered
May 11 is the scheduled date for when the complex will first open. Even if construction is expected to be done on May 3, several planning and preparation will be taking place to move all their equipment a week before.
A reminder for everyone
Complex of Hope was the name given to the facility because Dr. Espiritu wanted to remind everyone not to give in to fear, and that victory is possible if people work together.
More so, Dr. Espiritu added that everything in the complex needs to be profoundly positive; this stretches from the staff members, the patients, and even them.
The Complex should be a place with a positive attitude to a health crisis of a magnitude that we have not experienced before. So what can be more apt than the word 'hope'?"
Read: The New Normal Family Activities You Need to Adapt to Even After the Lifting of the Quarantine
The Complex of Hope is just one proof that compassion is what will save mankind during this pandemic. As the doctor said, as long as there'll be kind and generous people — people who are willing to go the extra mile, we have a big chance to defeat this disease.
As long as there are people who are kind, generous, and ready to go the extra mile, we will have a fighting chance to beat this disease."
We're "not capable of fighting it"
This initiative came after some Chinese medical professionals roved several medical facilities and clinics in the country; what they said placed fear in the minds and the hearts of doctors. With the first COVID-19 hospital and treatment facility in the country, we can expect brighter and better days to come.
What do you think about the first COVID-19 hospital in the country? Could this somehow aid in speeding the process up in fighting the virus? Can this have an impact in how our country is currently up against it?