We spend a long amount of time studying, and without teachers who guide us, we would be nothing. Teachers are essentially a crucial part of our nation. Why, you may ask? Because they are the people who build the future of all the youth. From different morals to important knowledge and lessons in life, they all share that with us. Even so, they take their time to nourish each and every student they have. Teachers are truly heroes. Considering this, one question lingers, are they paid enough for their job?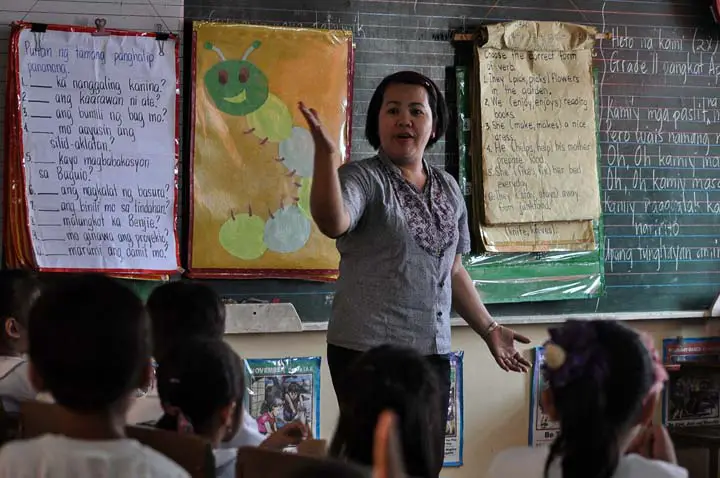 In other countries, being a teacher or a professor is rewarding to the point that they have different benefits that other people may find difficult to get. Here in the Philippines, however, teachers are ought to be underpaid and it's just the nobility of their job that keeps them where they are.
Read: Duterte Administration to Study the Increase of Nurse's Salary and Benefits
Some say that the salary of teachers in our country is not enough. Because of this, some petitioned to have the teachers' salaries to be increased, as per Benjamin Diokno, Secretary of the Department of Budget and Management (DBM) during their press briefing last January 17, 2019.
 I am not opposed to the increasing of the salaries of our teachers. I understand the crucial role teachers have in nation-building and I do believe they should be rewarded accordingly."
With this, the DBM will commission study this year to see what they can do about this. In addition to that, let us also take a look at how much are teachers getting currently for their salary as well as the compensation they get.
First, let see how the SSL and the TRAIN Law affected the compensation our teachers get.
With the implementation of the Third Tranche of Salary Standardization Law (SSL), the salary of teachers have already increased, and with the Fourth Tranche coming, they expect it to further raise.
Read: 1,000 Filipino Workers Needed by Israel
According to the DBM, with the new implementations, the salary of the teachers will see a hike especially after the bills regarding this change becomes approved.
Currently, an entry-level public school teacher (Teacher 1), having Salary Grade 11 under Tranche 3 of the SSL, earns a monthly salary of P20,179. Annually, he/she will enjoy bonuses and allowances of P74,358[1]. This rounds up the monthly compensation package of teachers to P26,375. By 2019, their monthly salaries will increase to P20,754 and their total annual bonuses and allowances will increase to P75,5081, rounding up their monthly compensation package to P27,046, or P671 more per month. The combined effect of the increase in salary from the SSL and lowered tax rates due to the implementation of TRAIN law will result to an additional take home pay of P43,363 per year. In 2019, annual tax savings will increase to P37,262 as it is indexed to salary. Additional take home pay due to SSL and TRAIN increase to P45,312."
What they plan on doing in the first quarter of this year is to commission an independent firm. In that said firm, they will do a benchmark on the salary of teachers and other government employees like nurses, doctors, and lawyers. After doing that, they will create and propose the right level of compensation to government employees.
But what impact would it have in the budget of the government?
Although this specific thing should not be a problem by us, it is imperative that we look at how it will affect the government's capability of approving this.
Read: More Than 17, 000 Jobs in Japan Offered to Filipinos
If we were to consider the budgetary impact of this, just doubling the income of teachers will require around P343.7 billion, with a big amount such as that, the DMB needs to see  and gauge how they would allot money for this and the effect overall in different sectors as well.
But by this, it is clear that they do recognize how important the role of a teacher is, but as the secretary said, "We would prefer to let the third and fourth tranches of SSL run their course before we propose a new scheme."
Read: 2019 Salary Grade of UP Professors and Admins
So, if you are a teacher or if you know someone in this profession, tell them not to worry because the government is already on the move in giving back the effort and the patience of teachers. More so, people in the same kind of category will also be rewarded.
What do you think about this? Do you think that this is something that we can look forward to? The DBM, together with different branches of the government is on the move in helping teachers earn more.