Here in the Philippines, farmers and fishermen are among the poorest because of the fact that they are underpaid. In other countries, fishermen and farmers are bathing in money because of the sole reason that they are the one who provides for society.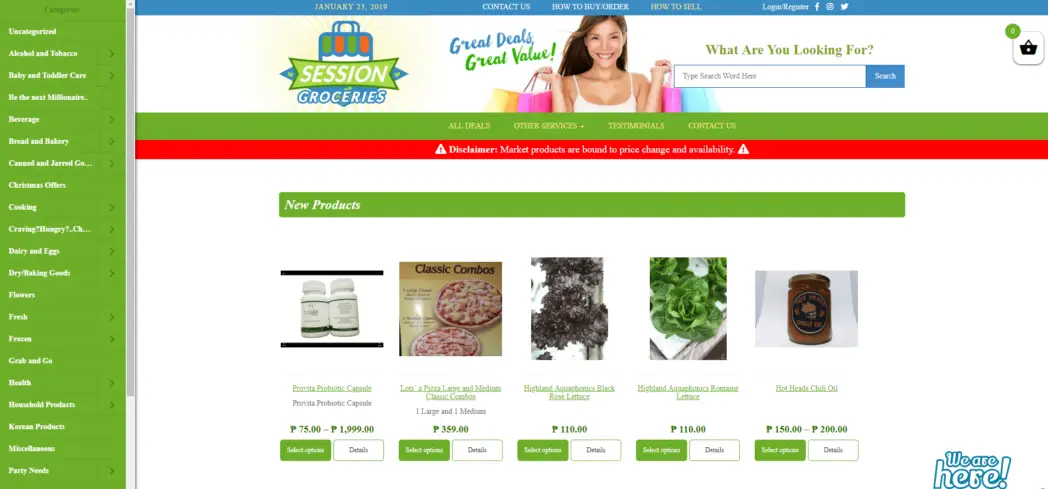 Good news! Consumers and people from Metro Manila can now avail fresh vegetables and fruits straight from Benguet farmers via an online store which is like an online grocery.
Read: Investment Scams Online You Need to Watch Out For
Session Groceries, a grocery service that is utilized to cater households in Baguio City only, is expanding their services to Metro Manila now. With this, people from the Metro can now order fresh products at a lower rate compared to regular grocery stores.
As per Iloisa Romaraog, she started to deliver groceries and goods within Baguio City seven (7) months ago. However, after she saw reports of farmers having to throw their vegetables due to oversupply, she decided to have expansion of her services to consumers in the Metro.
She told ABS-CBN News that she felt pity on the farmers because their harvests just gets thrown.
Nagde-deliver kaming groceries sa Baguio talaga, sa Baguio lang dapat. Tapos nung nakita ko 'yung report tungkol doon sa itinatapon ng farmers, naawa naman ako kasi 'di ba, basta kawawa sila, kasi ang hirap hirap magtanim, tapos itinatapon lang nila. tapos naisip ko, gawa ako ng post na baka may tutulong sa kanila."
(We deliver groceries within Baguio City only. However, after I saw the report about farmers throwing their harvests, I felt pity and sympathized with them because I know how difficult it is to plant, harvest, and cultivate vegetables then they just throw it away. So, I thought of posting about that experience, thinking that people will help them.)
Read: NBI Advises Online Shoppers Who Are Paying Through Remittance Centers
In addition to that, she was able to come up with the idea after she asked for donations for Typhoon Ompong victims yielded positive feedback and results.
Iloisa Romaraog mentioned that they are still trying to improve their services of delivering goods to Metro Manila but they sent out two (2) batches of goods with consumers picking their vegetables up from bus terminals.
As per Romaraog, the farmers prefer bulk orders because they are trying to fill their quota of 4,000 kilos for the next batch. More so, she said that the shipping fee is directly paid to the bus companies.
Kung hinda nga kasi in bulk ang (orders), nalulugi din kasi 'yung mga farmers. kunwari ako, gusto ko gawin ito, pero wala rin eh, hindi rin sila masyadong motivated gawin kasi, hindi naman siya in bulk. kaya pinu-push namin ang manila na baka kayanin nila mag 4,000 kils na order, baka marami pang may gusto."
(If the orders that are going to be done are not in bulk, the farmers will suffer losses in business. I like to do this and help them but the farmers are not motivated enough because the orders are not in bulk. That is why we are pushing to reach at least 4,000 kilos of orders from Manila. There might be more people who want to order or interested in availing the service.)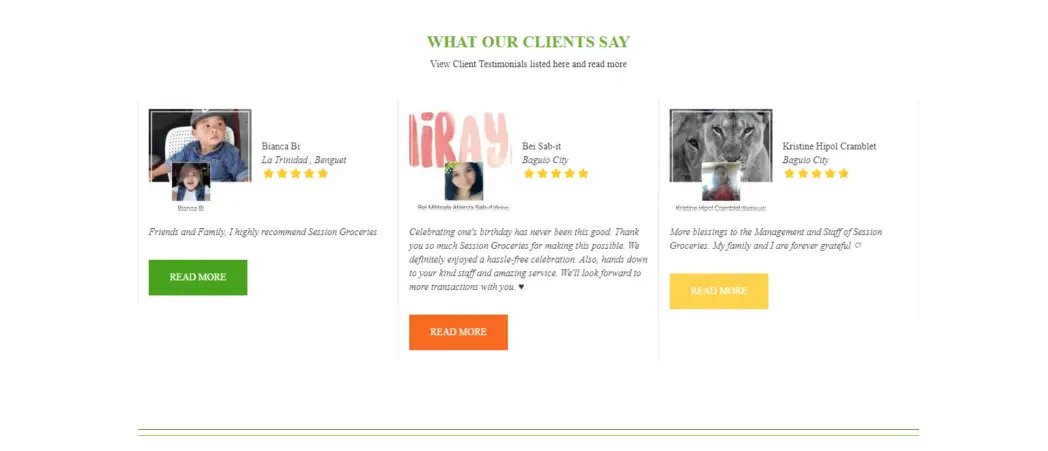 Romaraog emphasizes that the service is new and both the farmers and their company are still in the process of overcoming losses. However, she, together with her company and their company is not losing hope because they know that this is for the greater good.
Read: Bayad Center Clients Targeted by Bill Payment Scam
She also mentions that this is an opportunity to bring farmers and the goods of the consumers closer because they know that the prices of vegetables and fruits in Metro Manila, both groceries and the markets are higher.
nakakita rin kami ng opportunity na dapat pala mas malapit namin maitawid si farm at saka doon sa cinsumer. 'yun 'yung pag-aaralan ko kung paano siya gagawin na mas diretso."
(We saw an opportunity to bring the farmers and the farms closer to communities and consumers. We are still looking for ways on how to make it work better.)
Are you interested in availing the services of Session Groceries? Do you want to give a hand to farmers because of the fact that they are being underpaid? If yes, then just visit the site and order.
Visit https://sessiongroceries.com/ and start your virtual grocery shopping. In addition to that, you can check their Facebook page.
How do I use Session Groceries?
It's very easy to use! When you open the website, you will find stuff that you can order immediately. However, on the left hand-side part of the page, you will categories like: Alcohol and Tobacco, Baby and Toddler, Dairy and Eggs, Cooking, Flowers, etc. 
From there, you can choose from different categories if you are planning on buying everything in one go. On the middle top part of the page, you will see the following options:
Contact Us
How to Buy or Order
How to Sell
Contact us, obviously is their contact information. If you have suggestions, complaints, and inquiries, you can contact them.
How to Buy/Order is the part where the website will teach you how to buy from them. The steps are easy, in fact, it is self-explanatory.
Read: The Cashless Palengke in Valenzuela City Will Leave You Breathless!
Choose the product/s you want to purchase
Of course, you have to ensure that that is the product you really want to purchase
Confirm the products in your shopping cart;
Enter your email address;
Fill out the delivery information and home address. Make sure to include landmarks just in case;
Choose the method of payment and confirm your order;
You will receive the order confirmation and a confirmation call from Session Groceries' staff.
How to Sell is the part where Session Groceries teaches people who are interested in taking part of the business. This part is still currently under construction and will be updated as soon as the company relays information to us. Maybe they are still trying to come up with how people can invest in them in order for the processes to be effective.
This type of service is not innovated by Filipinos but the fact that its aim is to help farmers earn is already helpful. What are your thoughts about this? Do you think that using this would ultimately help our farmers earn? Would patronizing the service be good for our economy? We don't know but one thing is for certain, using this online grocery system is beneficial for everyone because it saves time and effort, plus, we get to help our local farmers.