Watch Pacquiao vs Thurman Livestream on July 21, 2019. Manny "Pacman" Pacquiao, the eight-division world champion of boxing, and a Filipino Senator, is set to fight Keith "One Time" Thurman, a Super WBA Welterweight champion who remains to be undefeated. I know that most Filipinos are eager to watch this showdown from the fighting pride of the Philippines because it's going to be one hell of a fight.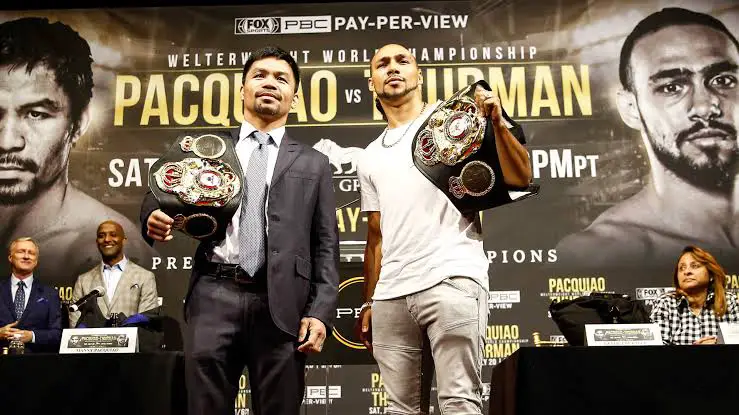 Read: Ever Noticed the "Wow Cool Post" Comments on Facebook?
The countries who will be hosting Pay Per Views (PPVs) are: The United States of America (U.S.A.), Canada, the United Kingdom (U.K.), and Australia.
Unfortunately, the Philippines won't be having it. So how can Filipinos from the Philippines watch this legendary fight?  Through livestream. Yes, we will be teaching you how you can watch the Pacquiao VS. Thurman livestream on July 21, 2019 without you paying for anything!
Fighters' background
Manny "the Pacman" Pacquiao is known to be one of boxing's greatest. Being the first ever boxer to have eight (8) different title divisions, he is truly one of the greatest in the sport.
Currently, he is a Senator in the Philippines and is doing a great job in doing so.
Keith "One Time" Thurman is a professional American boxer having no defeats in his professional career yet. He is known to have explosive power and great agility inside the ring.
Read: Live MLB Games Could Be Coming to FB
Thurman is considered to be a "risk" for Manny Pacquiao because of his stature of being undefeated. Nevertheless, we will see the real results in a few days.
How can you watch the Pacquiao VS. Thurman livestream on July 21, 2019?
The best and easiest way to do it is by using a VPN. A VPN or a Virtual Private Network is a type of private network that extends a public network.
So, in order for you to be able to access and watch the Pacquiao VS. Thurman livestream on July 21, 2019, you need to connect to the countries that offer the PPV of the fight.
What VPN should we use?
Based on customer and user feedback, ExpressVPN is the best in terms of connection and compatibility. Plus, it has a free trial for 30 days or one (1) whole month which will allow you free usage.
You can download ExpressVPN for Android.
In addition to that, there are other VPNs you can use in order for you to be able to watch the Pacquiao VS. Thurman livestream on July 21, 2019. You can run a search via your mobile device and your laptop to do so.
So how do you watch it through VPN?
Once you have your desired VPN installed and configured, toggle it so you can connect to the original broadcaster of the Pacquiao VS. Thurman fight and watch the livestream.
Make sure that you know how to utilize the VPN so that you won't experience any problems while you're watching.
Here is a guide from ExpressVPN on how you can set it up and start using it.
Technically, what you just need to do is to switch and toggle the IP Address of your mobile phone or laptop as if you are in the U.S., Canada, Australia, and in the U.K. You can find a detailed guide on how to do it from TechRadar.
Through Facebook Live
Another way to do it (if we are lucky) is through Facebook Live. Do you ever notice streamers on Facebook? Well, back when it was the NBA Playoffs, a lot of people used Facebook Live to be able to stream the Finals between the Toronto Raptors and the Golden State Warriors.
This, too, can be useful if people are able to stream and capture it, and share it LIVE.
Read: Tired Of All Those Generic Earthquake Tips? This Is The Ultimate Earthquake Survival Guide That Would Literally Save Lives
How do you watch the Pacquiao VS. Thurman livestream on July 21, 2019 through Facebook Live?
On the day, make sure you have the exact time in Las Vegas because that is where the fight will take place, search the keyword "Pacquiao VS. Thurman livestream" on Facebook.
It should display a lot of results and select the best one with, of course, the best quality possible.
Do note that Facebook might take it down if they detect it but all you have to do is to find another source for it.
NOTE: The streams from Facebook might be a little bit delayed but hey, at least you were able to get a piece of the cake.
So are you itching to watch the legendary Pacquiao VS. Thurman livestream on July 21, 2019? Are you lost as to how you can watch it live and for free? Don't worry, because we got you covered!