Facebook has been one of the most visited sites ever since it acquired hundreds of other smaller companies. Other than that fact, it's also one of the most used applications in connecting with people from all around the world. It's hard to deny the fact that it's utility is extremely efficient.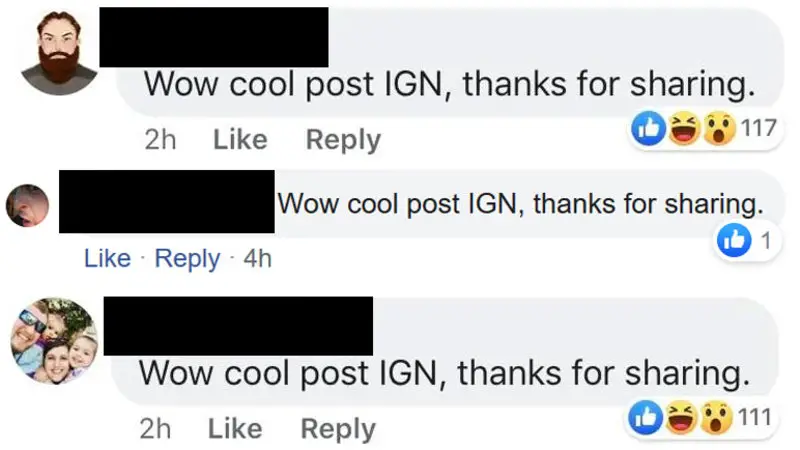 Commenting has had a lot more meaning than just putting your thoughts and opinions on something. It has been the way of many people to express what they feel subconsciously. However, commenting has escalated as it relayed more than just expressing an individual's own views and opinions.
Read: Change Your Password Now Because Facebook Stored Passwords in Plaintext
Just recently, a widespread of comments with the words "wow cool post, thanks for sharing" has been circulating around Facebook.
Which types of posts had this comment?
Various posts had these comments on them from an article, a livestream on Facebook for online games, even photos.
It's quite difficult to be safe from these wow cool post comments especially since it's the current trend. The comment will usually be partnered up with some kind of emoji and a heart emoji at the end.
Where did this post originate?
No one is actually certain about the whereabouts of where this post came to life. However, some people suggest that it began from different right groups on websites. The website that some people think of is the Facebook page of the gaming website, IGN.
One gaming website based on the Philippines, Website Gaming PH, said that some users in Facebook are battling to receive the "top fan" badge on Facebook.
What is the top fan badge?
In addition to the most recent updates and new utility features Facebook has to offer, the top fan badge is actually one of them.
As you can see in the image below, the top fan badge will display when you make a comment. It's usually a star on top of a specific user's name.
Read: Clark, to Have the First 5G City in the Philippines to be Built by PLDT
This is a feature which was seen first on the social media site to promote some sort of an engagement or a relationship between certain Facebook pages and its members/users/fans.
Users with this badge are considered to be the fans that have the most engagements to the page. As a reward? Well, they will be rewarded accordingly based on what the Facebook page's rewards are.
How can a person achieve or get a top fan badge?
Webtrickz, a website dedicated to share some of the unknown tricks and tips in social media and technology, shared a certain technique on how a Facebook user can get this top fan badge.
Unfortunately, according to them, there is no such procedure that can allow a user to have this top fan badge. It's tricky and it's quite difficult. Facebook, on the other hand, said that you can either be a top contributor or a top fan by being one of the most active people on that page.
Meaning, you should interact a lot of times not only with the page, but also to the people who interact with it. You can do things such as: sharing, commenting, posting, and watching some of the videos of the page. 
When you are able to achieve the top fan badge, you need to enable it in order for other people to know that you are one of the top fans of the page. To do this, go to the Top Fan Settings and turn it on by toggling the Display button.
Read: Philippine Mobile Data Speeds Have Improved
Know who other top fans are on a page
You can also be aware of the other people who are top fans on a specific page. To do this, you can visit the page and click on Community. From there, you will see other people who are considered top fans by the page.
This action is not new after all. In fact, one trend started and it was called the copypasta wherein users will paste a block of text and/or message to somehow try to troll and to mess with newer users.
It is sometimes an inside joke that only older users will be able to understand. So, it can be safely assumed that this is an origin to that.
Read: JuanTax—New App to Help Fill Out Tax Forms
So, if ever you come across "wow cool post" comment, don't freak out because it could just be a way of people to attain the top fan status—unless Facebook personally reveals what this means, no one has an answer on why this is.