Milk Tea has been one of many Filipino favorites. Milk Tea places are one of the few locations where teenagers, even adults, go to to pass some time. Some of the most notable brands would be the brands you will see in some of your friends' stories or posts but have you ever thought of McDonald's joining this hype?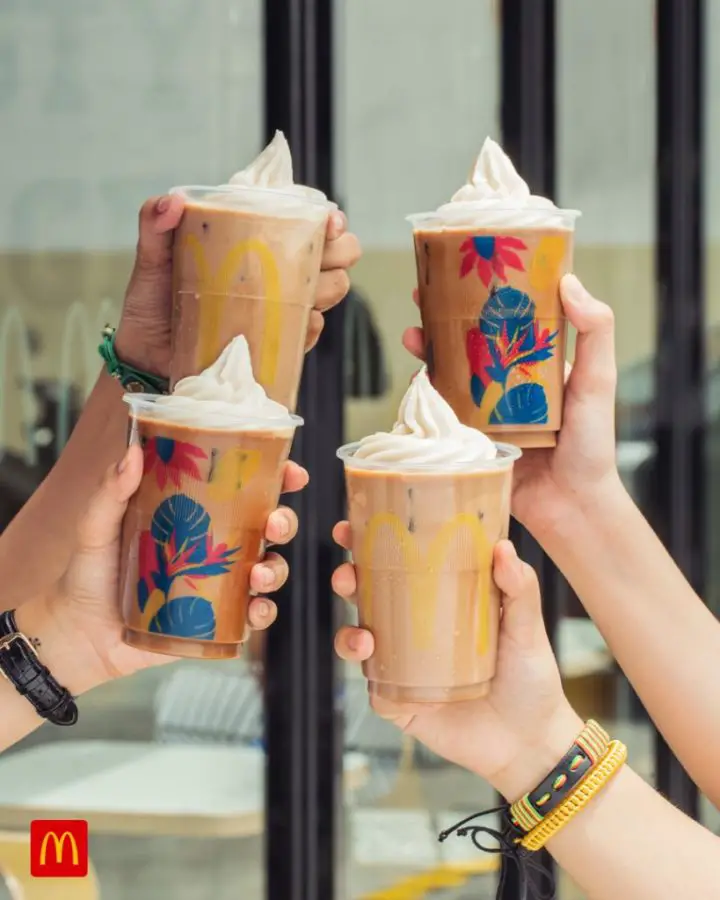 McDonald's Philippines joins the milk tea competition
Just recently, the fast food chain giant started to offer milk tea which come in two (2) different flavors: Wintermelon flavor(s) and classic milk tea flavors.
Read: McDonald's Philippines "Go Hire Day" for more Employees
If you are familiar with milk tea, then you might have an idea or two on how both of these tastes like — try imagining how McDonald's would do their version of it.
The price of the McDonald's milk tea
As of writing, reports said that the price of the McDonald's milk tea is cheaper than other brands' milk tea. Regular serving of this drink costs only P49.00 and the larger cup would be slightly more expensive at P65.00.
McDonald's post had a pinch of humor into it. They posted this photo with the caption This is just a teaser.
The photo they posted on their social media was an image of the two McDonald's milk tea flavors with toppings of vanilla soft-served ice cream. Yes, it's a tease to people who are in love with milk tea and it's something they are urging milk tea lovers to try.
Read: Shakey's Will Open 20 New Stores This Year
Coconuts Manila, a lifestyle blog, tasted the said milk tea from the fast food giant and said that the Wintermelon milk tea tastes like the regular milk tea with sweeter flavors of caramel. However, Coconuts Manila said that unlike regular milk tea shops, McDonalds' version lacks the creaminess and the burst of flavors. Therefore, the drink is recommendable to people who can't visit a milk tea shop and those who wanted a quick and cheap fix for their cravings.
What it looks like
Coming from other people's reviews and from Coconuts Manila, it looks more like the soda float treats of McDonald's. It's placed on a cup with the circular cover (like that of a float); but the taste is different.
So, don't confuse yourselves when you see someone carrying that cup around because that might just be the newest treat the fast food giant offers!
Read: Starbucks Hacks You Need to Know!
Is McDonald's the only fast food chain to offer this treat
Last March, Dunkin' Donuts came with the milk tea trend and offered their Okinawa Milk Tea with brown sugar. The good news? It comes with pearls. It's priced at P100.00. Dunkin' Donuts fans loved this and is still being offered so if you want a taste of their milk tea, try it out!
In addition to that, Tim Hortons, one of the most famous cafes in the West, also started offering its own brand of milk tea, which is a black tea with coffee jelly, milk, vanila-sweetened milk, and sugar and is priced at P110.00 for the small size; P125.00 for medium; and P135.00 for the large one. If you want a stronger aroma, you can get an added shot of hazelnut or caramel for only P20.00 extra.
No reports of McDonald's milk tea has been made in accordance to branches and stores in other parts of the globe. However, McDonald's branches in the west often offer regular tea like in McDonald's Canada, they offer peppermint, oregano, earl grey, and more. So, it's quite safe to conclude that different countries have different targeted markets so they would really have vast differences on what types of meals, beverages, and combos they will offer.
Read: Buffet Date Spots That Are Under Php500 Around the Metro!
Are you a milk tea lover? If yes, then you might want to try the new McDonald's milk tea that they recently just released. Although it's not the milk tea you would be expecting, it could be something to take your cravings off of your tongues.
What are you waiting for? Visit the nearest McDonald's from you now and satisfy your milk tea cravings at such an affordable price!
Let us know whether you've liked it or not or what your thoughts about this new product of theirs are!