With the rise and dominance of the touch screen smartphones, people became used to seeing smartphones to have this shape and some distinct features. This is why when Android co-founder Andy Rubin shared that he and his team was working on developing tall smartphones, everyone was waiting with eyes wide open.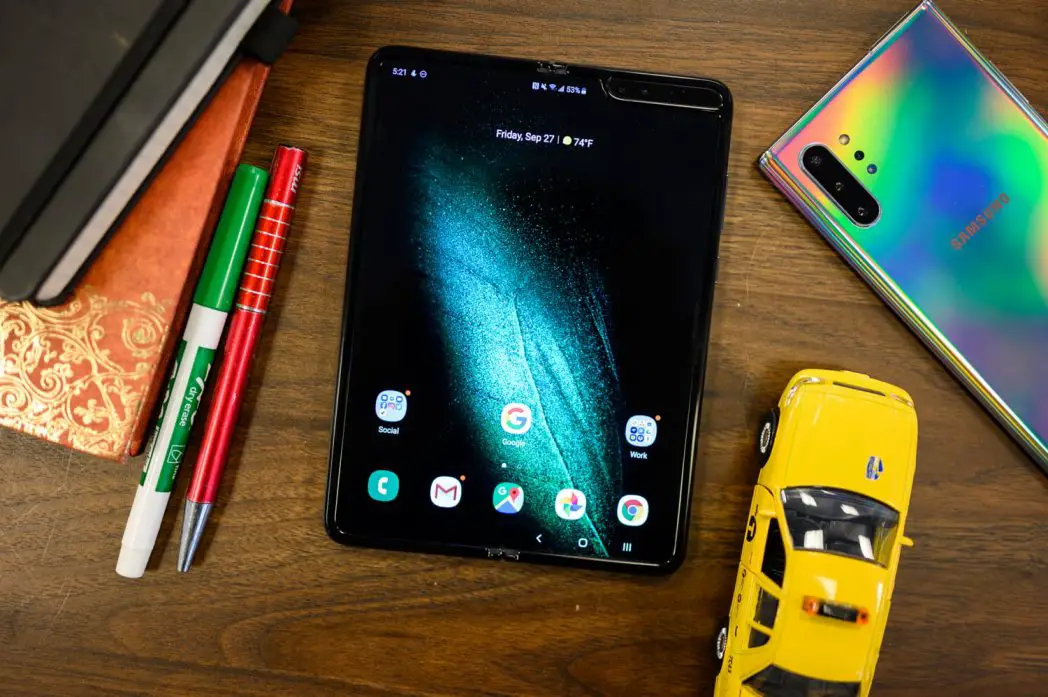 Samsung, one of the leading multinational technology conglomerates is also probably one of the most famous in terms of the devices and gadgets they offer. From simple smartphones to Samsung Gears, they're really ahead of the game.
Read: Huawei Smartphones to Not Have Facebook, Instagram, and WhatsApp Pre-Installed
Not to mention that they have plans in offering a foldable smartphone that they said will be released any time soon, here in the country.
Samsung Galaxy Fold in delaying the global release
Originally, Samsung had planned to release foldable phones in the market in September of this year. However, due to some of their units'screens malfunctioning, they delayed and rescheduled the official worldwide release of the Samsung Galaxy Fold within the next few months.
In a statement, Samsung said that its company is busy in redefining the Galaxy Fold for it to become another game leader in the tech industry.
Read: ALERT: Delete This Android Video App Now Because it's Hiding Malware
During the past several months, Samsung has been refining the Galaxy Fold to ensure it delivers the best possible experience. Not only did Samsung improve the Galaxy Fold's design and construction, but also took the time to rethink the entire consumer journey."
Many of us Filipino tech-junkies are more than excited of the release of the Galaxy Fold in the Philippines. Because of its ideal and rare style, it really would captivate all technology-lovers.
Is it now available in other countries?
Samsung launched the device back in September of this year and reported that the device was "sold out" in various countries. No mention of which countries these are but it was loved by the majority of people.
Read: Elon Musk's Neuralink Will Merge Your Brain With Artificial Intelligence (A.I.)
The Samsung Galaxy Fold is expected to arrive in the country within a few months. Could this be potentially the best smartphone we will ever have? Could this change our perspective on looking at smartphones?
As per Samsung, the phone contains an Infinity Flex Display that would be 7.3 inches. Basically, it would be providing some sort of a tablet experience for smartphone users.
Samsung Galaxy Fold specifications
Of course, the specs of the phone would be one of the main selling points of Samsung. After seeing what the phone's specs are, it really enticed me to get one when it becomes available:
Snapdragon 855 chipset processor
Android v. 9
Fingerprint sensor
12 GB RAM
512 GB internal storage
16 megapixel ultra wide + 12 megapixel wide + 12 megapixel telephoto rear cameras
10 megapixel front camera (on the cover)
10 megapixel +  megapixel depth camera on the front of the Infinity Flex Display
4380 mAh battery
Fast Charging and Wireless Charging
Read: Huawei's Special Warranty Program or Refund if the System Stops Working
Other advanced features of the Galaxy Fold
If the specs weren't food enough for you, Samsung will be offering a whole different experience when it comes to the Galaxy Fold. As per the company, the Samsung Galaxy Fold would have a special feature such as a one-on-one access to Samsung experts for inquiries about the Galaxy Fold; special customer care services; and a round the clock customer support which are either chat or over the phone.
No official date of when it will be released was announced by Samsung. The only thing we and other technology fanatics know is that the Galaxy Fold is one hell of a smartphone and it's coming to our country pretty soon.
President and Chief Executive Officer (CEO) of the IT and Mobile Communications Department at Samsung Electronics DJ Koh said that consumers were glad of the new features especially the bigger screens; he also said that consumers were happy of the revolutionary innovation Samsung was able to produce.
Read: iTunes Will be Removed as Apple Harmonizes Their Software
Consumers have responded positively to larger screens, and the Galaxy Fold's revolutionary form factor offers a bigger, more immersive screen without sacrificing portability."
How much would the Samsung Galaxy Fold be in the Philippines?
Samsung did not release the pricing of the Fold immediately. However, according to some sources, the phone cost $1,980.00 in the United States which is more or less P100,000.00.
If you've been following Samsung religiously, you would be well aware of what we're talking about. Otherwise, the Samsung Fold might have grasped your interest and must've attracted you to read more about it.
Are you ready for one of the biggest releases of new generation smartphones? Would you love the innovation that Samsung has to offer in terms of a new taste of their smartphones?
Source/s: Rappler | ABS-CBN News