Just last December 2019, the Pasig River Ferry Service went back in operation. To give you a brief history, it was ruled back by the Metropolitan Manila Development Authority (MMDA) to offer an alternative and faster option for those traveling in Manila, Makati, Mandaluyong, and Pasig City. So, the main establishment of Pasig's Ferry System is to help the public with their commuting woes.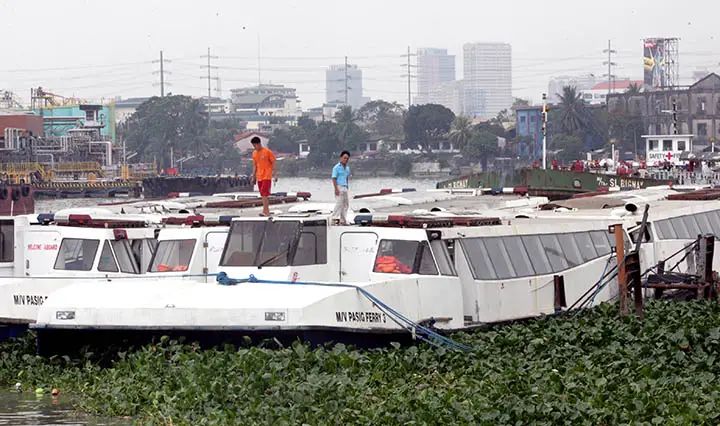 Why they brought it back should actually not be the question. The establishment of it is seen as an effort to ease the traffic that's worsening every single day in the capital region. Originally, they planned this to be effective just for the holidays. However, they saw its good use so they planned to continue this and even expand it.
Read: The New Makati Subway and How it can Change Transportation in Metro Manila
How many boats are there?
As of writing, there are seven (7) boats that travel a span of over 26 kilometers. However, they operate just two (2) boats under Pasig's Ferry System today. The other five (5) will be when it'll be operating to its full extent. The two running now are the MV Mutya ng Pasig 1 and MV Mutya ng Pasig 2; both of which can accommodate 57 passengers.
Pasig's Ferry System currently has fourteen (14) terminals but only 11 operational. There are five (5) located in Manila, two (2) in Makati, one (1) in Mandaluyong and three (3) are in Pasig. The stations all have CCTV cameras installed, comfort rooms and even free wi-fi.
Read: The Future Projection of Railway Public Transport Around The Metro
Just in case you're wondering where these stations or terminals are located, we did the honors of listing them below:
Lawton, Manila
Escolta, Manila
PUP in Sta. Mesa, Manila
Lambingan, Manila
Sta Ana, Manila
Valenzuela, Makati
Guadalupe, Makati
Hulo, Mandaluyong
San Joaquin, Pasig
Maybunga, Pasig
Pinagbuhatan, Pasig
The budget for Pasig's Ferry System
The Philippine government was able to see the importance of the new and revived service. With that, the government is looking to expand this; in fact, they've already allocated a total of P176 million from this year's national budget for expansion.
Read: Here Are Helpful, Effective, and Beneficial Tips to Be Safe From the "Basag Kotse" Modus
Sen. Juan Edgardo Angara confirmed last Sunday that the Congress has already allotted P176 million to the MMDA to improve the said ferry service.
In addition to that, the Senator firmly believes that this system can really help out in reducing the traffic congestion we are experiencing right now in and around the Metro.
In a statement he said, he mentioned that there doesn't seem to be an end with the traffic woes we're experiencing in the Metro. He said that Pasig's Ferry System can just about help anyone commuting in and around it.
Read: Safety Tips to Follow When You're Stuck on the Road During an Ashfall
There seems to be no end in sight for traffic in Metro Manila. We were given a brief respite after Christmas Day last year but now traffic is back with a vengeance. Motorists and commuters alike have to suffer being stuck in traffic for one to four hours or more, depending on where you are from and where you are going to. We have to look for solutions and the Pasig River ferry could help."
On a side note, he also added:
Read: 3-Hour Travel From Manila to Baguio, Now Possible!
The skyway systems that aim to ease traffic along the major thoroughfares, such as EDSA, are still under construction, but this doesn't mean that we can do nothing to help our commuters."
To produce massive, 50-seater ferries
In case you're wondering why the budget was that high, he said that this budget that was allocated will specifically be used to purchase four (4) more 50-seater ferries. The ferries that are to be added to Pasig's Ferry  System will all be air-conditioned boats. They would help supplement the two (2) boats that are operating on a daily basis.
Read: Would the Removal of EDSA's U-Turn Slots to Improve Traffic?
On top of this, the budget will also be used to improve accessibility to ferry stations and intermodal transfers. Just in case people aren't aware, between the boats that are operating right now, they terminate at Guadalupe Station, splitting the system into two legs: From Escolta, going to Guadalupe and Guadalupe going to Pinagbuhatan. They plan to remedy this though in the future.
Aside from this, the extra budget would also be used for preventive maintenance to make sure that all new and existing boats would be functional and safe for the public to ride on. They will also use some of it to purchase communication equipment and service vehicle.
If you're not aware, the two (2) shops are now operating and they're bringing quality public transport to all commuters who are traversing the said routes in the said stations.
Read: P10 Minimum Jeepney Fare, Petitioned by Jeepney Drivers
Lengthy process
Sen. Angara acknowledged the fact that this might take a bit more time; it's going to be a lengthy process before everything would be fully implemented for the purpose of improving public transport.
We still have a long way to go before the revitalized ferry system that is being envisioned becomes a reality, but this is a good start. We owe it to the public to continuously provide them with solutions to problems such as traffic congestion."
In addition, Senator Angara also made mention that getting new boats won't be enough since the commuters must also be given easy access to the stations if they are enticed by the said mode of transport.
Read: Bill That Asks Transport Terminals to Have Free Wi-Fi and Cleaner Facilities, Signed Into Law
He said that the commuters, once they arrive at their destinations via jeepneys or buses from wherever they came from, would have a space for them to walk on.
Dapat pagbaba nila ng bus o jeep mula sa kanilang pinanggalingan ay may masasakyan o malalakaran sila na maayos papunta sa ferry stations."
In Translation: The moment they alight buses or jeepneys from wherever they came from; they need to have some public utility vehicles they can ride or walkways where they can peacefully walk on going to ferry stations.
Would this help in the improvement of the Metro's public transport?
Definitely, it would. Using the river to transport people, goods, and other commodities is an efficient way to help commuters and people who use public transport to have better, easier, and more efficient alternatives.
Read: Lower Fares For Motorcycle Taxis in Manila and Cebu, as per the Technical Working Group (TWG)
The reviving of Pasig's Ferry System really is a good move by the Philippine government. With what we know right now, the Pasig River Ferry is still giving out free rides until January 31, 2020. This is to entice and encourage more people to try out the service.
So, if you live near the ferry stations and is looking to travel within the destinations, why not give it a try? Surely, it's an experience worth sharing about! Pasig's Ferry System is something that would curb the experience of commuters – imagine going from Pasig to Manila within minutes? It really is something we're excited to try!
Source/s: The Manila Times | Rappler