After the to and fro discussions about the legalization of motorcycles taxis in the country, the Metropolitan Manila Development Authority (MMDA) has been forced to lift the termination wish they had with the operations motorcycle taxis.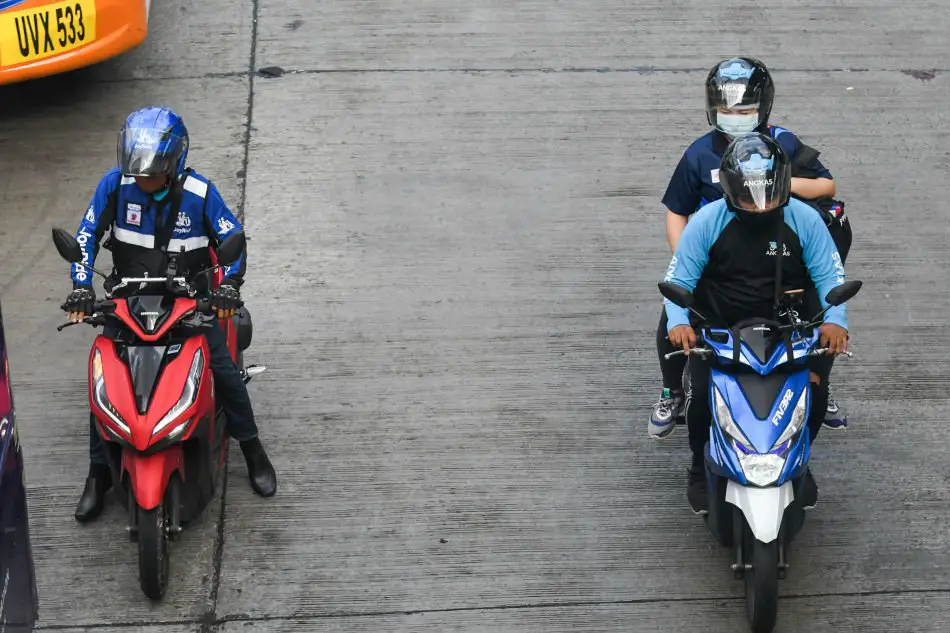 With about 16 senators, including Grace Poe, Chairman of the Senate Committee on Public Services proposed to legalize the operations of motorcycle taxis, the MMDA has come to a full stop in forcing the "illegal" measures they're pinning down to motorcycle taxis.
You can read more about that here: Final Verdict: Termination of Motorcycle Taxi Operations Pilot Program is Ceased
Jojo Garcia, MMDA General Manager, said that they're looking to prohibit motorcycle taxis on major roads in and around Metro Manila for various reasons; one being the safety of the commuting public.
He said that these motorcycle taxis shouldn't be in major roads like EDSA because it is unsafe.
Hindi mo pwedeng isabay 'yan sa bus. Kung ang tricycle na tatlo ang gulong, bawal sa national road, lalo na ang mga motorcycle taxi."
In Translation: You cannot just let those motorcycle taxis run around with large city and provincial buses. The fact that we don't allow tricycles which even have three (3) wheels on national roads, all the more for these motorcycle taxis.
Read: P176 Million Allotted to Expand and Improve Pasig's Ferry System
How would the motorcycle taxis operate if they'll be banned on major roads?
Of course, many of the riders would react to this. The fact that these roads are meant to simplify and the enhance the traveling experience of the public, it's going to be a hassle for them if they won't be able to traverse through it.
According to Garcia, this idea that they'll prohibit motorcycle taxis on major roads would mean that the drivers who would be accepting passengers through an allowed and regulated mobile app or booking service wouldn't be able to pass the following roads:
C-1, C-2, C-3, to C-6 Roads
R-1, R-2, to R-10 Roads
Some portions of the Epifanio Delos Santos Avenue (EDSA)
Roxas Boulevard in Manila; and
Commonwealth Avenue in Quezon City
Read: Angkas Buhay, the First Motorcycle Ambulance in the PH
Smaller roads are safer and better for them
Garcia iterated that their idea to prohibit motorcycle taxis on major roads would be "safer" and "better" in terms of safety for both the riders and passengers. He said that it's going to be safer if they'll traverse inner roads. 
Mas maiiwasan ang aksidente kung nasa inner roads lang sila."
In Translation: Accidents would be less likely to happen if they'll operate and just use inner roads.
Exponential increase of motorcycle taxi riders
With the never-ending traffic threats some of the country's employees, the number of the population utilizing motorcycle taxis are coming to a raise. Many people who work in and around the Metro expect that more Angkas drivers will become available for bookings.
Read: Another Proposal to Resolve the EDSA Traffic Dilemma, Submitted by a Lawmaker
Because of the pilot scheme, some of its competitors which include MoveIt and JoyRide have slots that they're not even using; authorities are saying that Angkas, being the most popular and the more used, take these slots to accommodate the growing need of passengers.
Motorcycle taxi driver registration apparently ended last Wednesday, the 12th of February and MoveIt, being one of the competitors in the market, only took 6,836 out of the allotted 15,0000 slots.
Antonio Gardiola Jr., Technical Working Group (TWG) head said that effective today, unused and improperly utilized caps would be redistributed for providers who are ready.
Read: Only Seven (7) Out of the 9,000 Passed the Riders Traffic Safety Exam
Effective today, the unused cap will be redistributed for those ready providers."
Customer protection
In addition to the plans of the MMDA to prohibit motorcycle taxis on major roads, Gardiola said that they're also looking at the option to fully require passengers to wear gear such as knee and elbow caps for protection while riding a motorcycle.
However, he continued to explain that these things might only be useful for minor accidents like to prevent wounds, bruises, etc.
In total, JoyRide, one of the competitors in the motorcycle taxi game, registered a mere 15,000 names in their list. Angkas riders, on the other hand, registered 20,000 drivers to the TWG.
Read: Angkas Riders Get a 72-Hour Window From the LTFRB's Cap
As per them, this will be until the end of the motorcycle taxi pilot run which will be on the 23rd of March 2020. It was a total of 63,000 units that are ought to service Metro Cagayan De Oro (CDO), Cebu, and Metro Manila; 45,000 of which will service Metro Manila.
With the rapid increase of the need for motorcycle taxis, what do you think about the MMDA's plan to prohibit motorcycle taxis on major roads? Could this help in the safekeeping of the protection and the safety of commuters?
Source: CNN Philippines