One of the most ought professions of many Filipinos is to be a cabin crew. Other than the fact that being one gives you the chance to fly more, it is also a job that is well-paying. You get to meet new people, both locals and foreigners, and you get to travel the world while you work. However, not all airlines are always accepting individuals to work for them.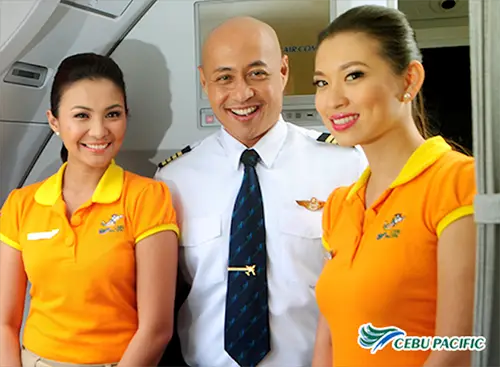 Good news this year because there are specific airlines that are looking for aspiring members of the cabin crew. There will be few of the most prominent airlines to be looking for cabin crew members this 2019. Just to be clear, we are not assuring that all of these airlines will be hiring, this list is about these airlines HAVING A POSSIBILITY of them getting members for their cabin crew.
Read: NAIA's New Airline Terminal Assignment Everyone Needs To Know About
NOTE: No official announcement from the following airlines have taken place. However, we do hope that these airlines get members for their cabin crew this 2019.
Cabin crew hiring for this year
Cebu Pacific & CebGo
Probably one of the more famous airlines in the country, Cebu Pacific, together with its partner subsidiary airlines, CebGo, is famous after Cebu got its exposure to tourists. Good news is that they are one of the airlines who hire almost all-year round and this year, it's pretty sure that they will look for more.
Starting next year, they will be taking the delivery of 32 Airbus A321NEOs. What this means, simply is that they will be including more and more destinations and will have more hubs.
Read: More than 1,000 jobs for PWDs, offered by DOLE
Cebu Pacific accepts applicants on Mondays and Tuesdays and although no official announcements were made, there is a BIG POSSIBILITY that they will continue to their cabin crew hiring this 2019 because of the positive changes the airlines is about to undertake.
Saudia
Saudi Arabia and other countries in the Middle East are among the few destinations where Filipinos choose to work in. Other than the fact that it is a country where a lot of Filipinos are currently in, it also pays good.
Saudia is one of the airlines that caters travelers going to the Middle East. And although there were only a few hiring sessions this year, there were a few predictions made that this year will be a different year in terms of them hiring more members of their cabin crew. More so, IPAMS, their official recruitment agency, made the announcements that they will hire more Filipinos this year, making their cabin crew hiring this 2019 legitimate.
Right now, IPAMS is still continuing to accept applicants who are just walking-in. However, further announcements still need to be made.
Delta
Delta Airlines is among the few who are least utilized by the public because of the exposure and the accessibility of other airlines.  Just recently, they made the announcement that they are going to hire around 1,000 flight attendants this 2019 so this one is actually just some sort of a reminder for everyone.
NOTE: Delta Airlines' acceptance rate in their cabin crew jobs is just 1% last 2018. So, if you plan on hitting their cabin crew hiring this 2019, you need to prepare yourself because they only pick out the best of the best.
VietJet
Based on its name, VietJet is a Vietnamese airlines which had their first ever recruitment for their cabin crew a little later this year. Since they started hiring late 2018, it is in the predictions that they will continue hiring until 2019, given the fact that they have more than a hundred aircraft to be on its way for operations.
Read: More Than 17, 000 Jobs in Japan Offered to Filipinos
So, if you were part of the people who failed in being accepted for the VietJet cabin crew members, this can be your chance to apply again. Take advantage of the opportunity that they might have a recurring cabin crew hiring this 2019.
PAL Express and Philippine Airlines
Probably the most famous airlines here in the Philippines, The Philippine Airlines, or, most commonly known as PAL, are not always declaring that they are hiring for cabin crew members. However, recent announcements that more aircraft and more destinations opening this year can pave way to them needing and getting more members for their cabin crew.
Although no announcements were further made, there is still a high possibility that they will have cabin crew hiring this 2019 because of the news that more aircraft are flying in this year.
Emirates
The Emirates Airlines, if you have been flying, then you know that they are one of the airlines who are usually treated like royalty. Because of the fact that they cater travelers going to the Middle East, it can be sought that the salaries of people working in the company is lucrative as well.
Read: Cruise Ship Firm To Give Filipino Workers Hundreds Of Jobs This Year
Last year, they had job openings for Filipino women for the Cabin Service Assistant position. This coming 2019, although no sure announcements were made, it is being predicted that they will hire more flight attendants and cabin crew members.
If you have the interest, you can always check their websites and if you have the time, you can proceed to their Manila recruitment agency, which is IPAMS.
Qatar Airways
Last year, they held out six (6) cabin crew hiring sessions in Manila and it can easily be seen that this year, it's going to be no different. Why? Because Qatar Airways is one of the few airlines that is consistently improving.
They usually hold out tours in different countries to hire cabin crew members and it's pretty much obvious that 2019 will be under the same procedures. Hopefully, by the time they get here in our country for their cabin crew hiring this 2019, a lot of potential cabin crew-soon-to-be members get the chance.
Air Asia
One of the airlines that most people resort to if they are only traveling to a near destination would be Air Asia. If you haven't heard, Air Asia held numerous cabin crew recruitment sessions this year for them to expand their operations. In addition, many are expecting for them to continue their cabin crew hiring this 2019 just like last year when they held their 4-day recruitment while they were here in the Philippines.
It is worth noting though, whether or not they will have their recruitment here in the country because there have been recent events and job caravans all over the world. Try looking at Air Asia recruitment hubs and job hiring this year and have a shot at it!
Are you interested in taking up a profession in the cabin crew? Are you planning to take a job up in this industry? What are you waiting for? Wait for the updates regarding cabin crew hiring this 2019 and grab a chance to work for these airlines!