After the commotions and certain discussions about foldable umbrellas not allowed in aircraft cabins to be carried in flights, the Office of Transportation Security (OTS) of the Department of Transportation (DOTr) on Sunday announced that foldable umbrellas are now going to be allowed to be carried in hand-carry or carry-on in cabins and in flights.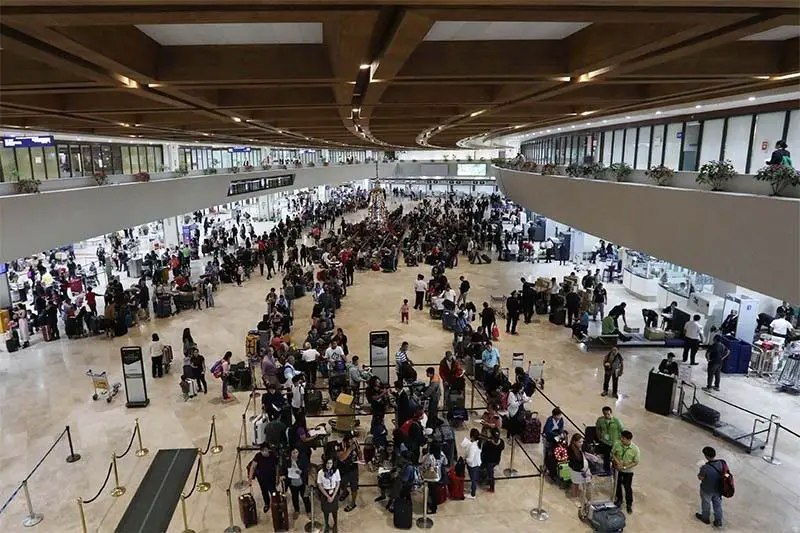 Furthermore, they said that they would be making it easier by allowing and lifting the previous prohibition of bringing foldable umbrellas inside airplanes and aircraft.
Read: The Updated List of What You CANNOT Bring in an Airport and in a Passenger Airplane
Allowed in both carry-on and checked baggage
In a previous rule, foldable umbrellas are only allowed to be brought if they are part of the declared checked-in baggage. Now, the OTS said that they're allowing the bringing of these folded umbrellas even in carry-on baggages of travelers.
They announced this news via their Facebook page through a Facebook post about the bringing of folded umbrellas in flights and in aircraft cabins.
The Office of Transportation Security of the Department of Transportation on Sunday announced it will be easing the prohibition on the carriage of folded umbrellas in cabin and checked baggage."
Read: Ninoy Aquino International Airport (NAIA) Airports Upgrade to Start in Early 2020
Why was this memorandum changed?
Raul L. Del Rosario, OTS Administrator Undersecretary, had ordered the review of the Memorandum Circulars No. 005 and 006, s. 2019. These circulars contained the revised list of the prohibited items intended for passengers departing any Philippine airports. 
A high volume and demand to review and request for the allowance of foldable umbrellas have stormed the OTS; this is of course in conjunction to the fact that the number of passengers traveling both locally and internationally has seen a significant increase.
In their defense, the OTS said that they are "following the International Standard set by the International Civil Aviation Organization (ICAO) in identifying and distinguishing items that would be prohibited on board. This is for the reason that these items can conspire and can help unlawul interference and violence which are against the Civil Aviation board.
Read: All Year Round 20% Discount to Student Fare, Signed Into Law by President Rodrigo Duterte
The initiative was made following public clamor to allow carriage of folded umbrellas in both cabin and checked baggage."
Through a long and extensive discussion with the Airlines Operators Council along with other airport authorities, they were able to come up with the resolution to allow the public to bring foldable umbrellas in both checked baggage and carry-on (hand-carry) baggage.
During the lengthy discussion on 08 October 2019, the OTS come in consensus with the Airlines Operators Council and airport authorities, to hear the voices of the public and provide corrective action to allow folded umbrellas in both carry-on and checked baggage, while maintaining cane umbrellas as prohibited item for carry-on bag."
Read: K12 Pinoy Graduates Are Qualified to Apply as Cabin Crew or a Flight Attendant
Why is an umbrella prohibited from being brought in an airplane?
As ridiculous as it may seem, umbrellas have one single purpose – to protect yourself from the sun or the rain; so we really would be asking the question why it is prohibited in a passenger airplane?
Based on the standard, an umbrella can be used for violence because of its sharp and pointed components. In addition to that, some items that are prohibited can be sneaked and slyly be hidden there.
But the point of the fact is, is that foldable umbrellas are deemed to be dangerous items that can be used to spark any violence in aircraft cabins.
How about cane umbrellas?
Cane umbrellas remain to be a prohibited item to be in carry-on bags for passengers.
Read: Frequently Asked Questions (FAQs) For All Aspiring Flight Attendants
Our country is becoming a more and more famous spot for tourists. As a matter of fact, tourists from all over the globe fly and visit our country because of its vast and wonderful scenery.
This is the reason for better and heightened security control, which paved the way for tourists to request a lighter, more sensible rule in item prohibition.
To conclude, the OTS, together with the DOTr, has agreed to allow foldable umbrellas to be brought by passengers via their carry-on baggage. Nevertheless, many of our tourists, both locals and foreigners, have been itching to have this rule scrapped off the list of prohibited items.
Read: South Korea Advisory: Restrictions on Carrying Animals and Animal Products in South Korea
After the spark of the unwanted African Swine Fever (ASF), many countries pushd to improve their security especially if a foreigner is to enter their country. But here in the Philippines, the problem is with the bringing of umbrellas in aircraft cabins and passenger airplanes.
Should foldable umbrellas really be prohibited from being carried wherever you are even in passenger aircraft? Or is it just right that umbrellas are allowed to be carried in carry-on baggage?
Source: The Office of Transportation Security (OTS) Facebook Page