Marikina City has been considered to be one (1) of the fastest growing and developing cities in the country. Other than the fact that the local economy of the city is rapidly improving, it's also a haven for businesses almost every single day.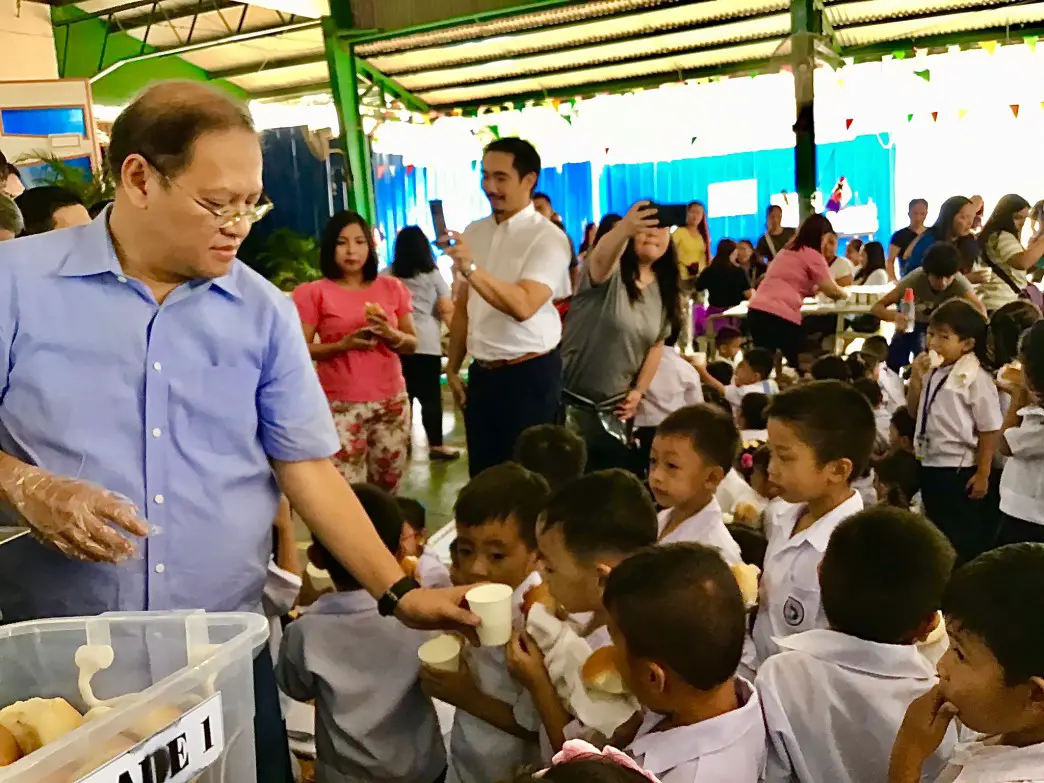 Mayor Marcy Teodoro, the respectable Mayor of the said city, said that students in all schools should be getting the proper amount of nutrition to support their needs for the whole school day. This is why he led the serving of a glass of milk and Nutribun with malunggay to over 1,000 students at the Parang Elementary School (PES).
Read: Public Schools to Christmas Break to Start on December 15, 2019 and Semestral Break on October 21st
Marikina students to receive breakfast from Mayor Marcy
He said that this act is not just to provide students a nutritious meal for the day, but also to monitor the students' weights and school performance for more than a quarter in a school year.
Furthermore, he explained that they will be carefully looking at the performance of the students for a total of four (4) months or 120 days to see if improvements are developing.
Read: Medical Scholarship Granted by Mayor Marcy Teodoro to Aspiring Doctors in Marikina City
Titingnan natin ang kanilang grades at performance after 120 days kung nag-improve sila sa pag-aaral. Ayon kasi sa mga pag-aaral, may relasyon ang tamang nutrisyon sa performance sa pag-aaral ng mga bata."
In Translation: We will look at their grades and their performance after 120 days to see if they are improving with their academics. We're doing this because according to studies, proper nutrition and school performance of children are closely related.
Is this the only school to receive a glass of milk and nutribun every morning?
According to Mayor Marcy Teodoro, at least 21,000 public school students in Marikina City will be provided with proper nutrition by being given a glass of milk and nutribun with malunggay every morning prior to them attending their regular scheduled classes.
Read: Food and Drug Administration (FDA) Gives Order to All Stores to Hide Alcoholic Beverages
Marciana De Guzman Principal of the PES, said that as early as seven in the morning, the students will be given these glasses of milk and the nutribun before they proceed to their regular day.
Pagpasok pa lang ng mga bata, seven in the morning, unang ibibigay ng teachers 'yong nutribun at gatas sa kanila. Mahalaga kasi na ang almusal nila ay nutritious dahil ang breakfast is the most important meal."
In Translation: When the kids get to school at seven o' clock in the morning, the teachers will provide the nutribun and glass of milk to them. Breakfast is of utmost importance even more that what they consume is nutritious because breakfast is the most important meal of the day.
Would a nutribun and a glass of milk be enough for the daily needs of these children?
Nutribun was and is the bread that was envisioned to fight malnutrition within the years 1968 and 1970. This bread was developed by a foreign team of agrarian experts, nutritionists, and dietitians at the Virginia Polytechnic Institute and State University.
Read: Modernized Jeepney For Those Who Live in Antipolo!
Clearly, this bread is not just a make-shift bread; it is indeed a bread filled with nutritious content and is made specifically to provide the needed nutrients of the body.
The bread is known to be fortified with minerals and nutrients and was made around a base product that could easily be modified by using any locally ready-made and available ingredients.
Marikina City's nutribun is made of the following ingredients: malunggay, eggs, squash, and flour. So obviously, this bread is a haven of healthy minerals and resources naturally made to strengthen the body.
Malnutrition in the Parang Elementary School
De Guzman mentioned that there were about 600 malnourished children in their school alone; whilst the total number of students from Kindergarten until the 6th Grade was just 4,000.
This means that more than 20 percent of the total elementary students were malnourished.
Read: A New Point-to-Point Bus Route Travelling from Rizal to Makati
In addition to the provision of a glass of milk and nutribun every morning, the Marikina City government also said that they will be conducting a seminar about nutrition among parents for them to be taught on the daily food recommendation allowance required for their children to grow healthy.
The nutribun program
Back when it was the Marcos Administration, the malnutrition rate has flourished, causing the Philippine government to come up with ways to fight this. Then, our country took advantage of the US Food for Peace Program and began the five (5) year nutrition program back in '71 and was dubbed to be the "Operation Timbang." 
The year after, the United States Agency for International Development (USAID) began to provide the Philippine Government with nutritbun loaves and milk powder.
Read: Taytay Tiangge: A Place for Affordable but Quality Clothing
To everyone's surprise, the operation was a success; and the number of malnourished people smacked down. Eventually, the nutribun program phased out as the government saw no use for it anymore.
Hopefully, with the initiative of Mayor Marcy Teodoro and the Marikina City government, their very-own nutribun program (which includes giving students a glass of milk and nutribun every morning), is going to be of success for the children not to have a difficult time growing up.
Source:  Manila Bulletin News