After the months-long discussion about "equality" in the country, SM Supermalls announces that they will be opening all-gender restrooms in their malls starting November.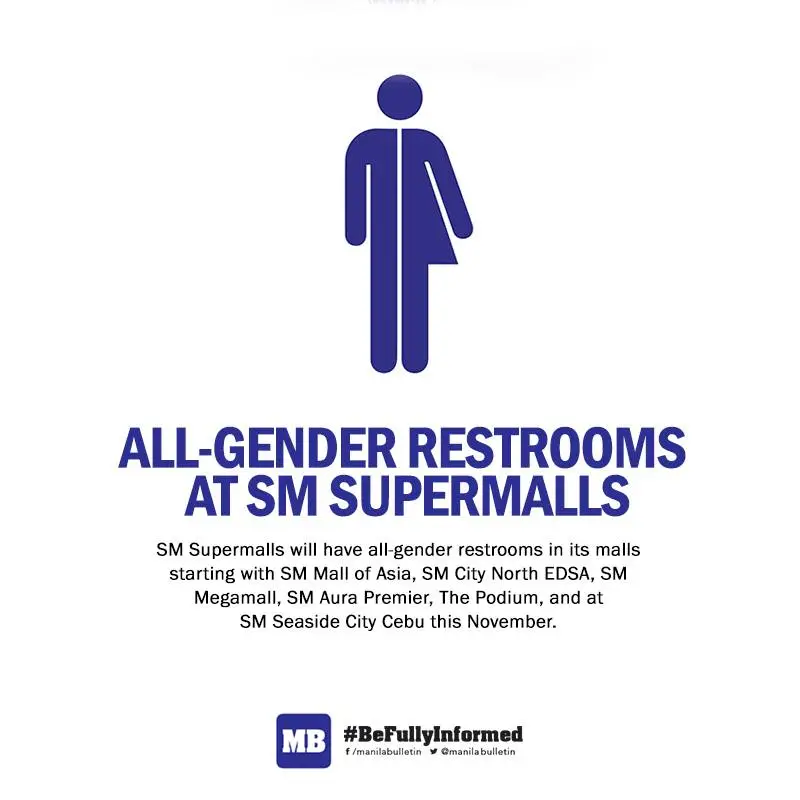 Last Thursday, October 10th, 2019, the management of SM said that all-gender restrooms will start to be rolled-out in its premier malls. They said that these will be installed in the malls across the Metro beginning on November.
Read: DOT and PNP Sign MOU For Safer and Better Tourism
All-gender restrooms will be installed in our malls starting with our premier malls across Metro Manila starting November."
As per their management, this move is a continuity in providing a better, safer, and a more efficient space that considers everything.
Let's continue to provide a safe community space that advocates inclusivity, equality, and respect for all."
Read: Isko Moreno to Turn Manila City Into a Smart City
Some establishments already started implementing inclusive and sensitive gender bathrooms after the discrimination of the famous Gretchen Diez in Farmer's Plaza in Quezon City.
Gender-fair ordinance in Quezon City
All-gender restrooms have had its fame in the country. In fact, Quezon City, the place where Gretchen was handcuffed for entering a woman's bathroom,  has an ordinance to protect the members of the LGBTQ+ community from utter discrimination even before the alleged occurrence.
Many people believe that this is not something that we should be doing. On the other hand, some people want and support the LGBTQ+ community from proposals like these.
Read: 5-Minute Smooth Travel Time Between Cubao and Makati, Soon
It is always safe to remember that the Philippines is a Catholic country. Therefore, bills and proposals such as the Sexual Orientation, Gender Identity, and Gender Expression (SOGIE) bill, which would take a deep curb in our beliefs and daily lives could go to paths that are not pleasant—they can be disregarded.
What about you? What do you think about malls opening all-gender restrooms in the country? Could this be effective in terms of protecting the rights of everyone? Is this move fair enough for everyone in the Filipino community?
Source/s: GMA News Network | Philippine Daily Inquirer