Just recently, President Rodrigo Duterte aimed to increase the tourism of the country. He did it by adding four (4) more tourist spots/destinations in the country for both local Filipinos and foreigners.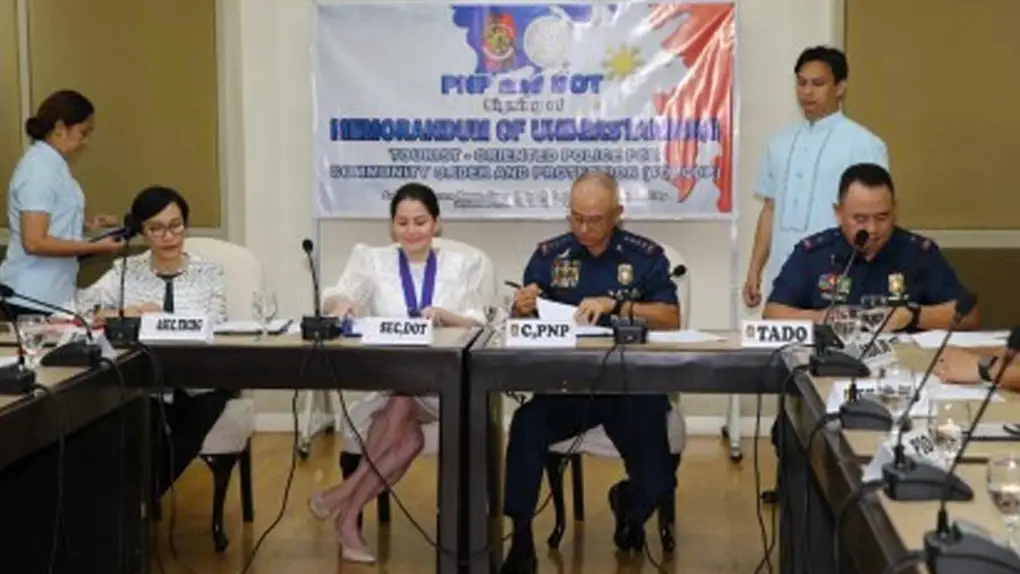 Having that said, this will attract more and more tourists to go see and visit the country. To add to that, even locals here in the country are still amazed with what they haven't seen in person. So, in line with this, the Philippine National Police (PNP) reports that even before these added tourist spots came to be, various threats have been imposed by criminals and terrorists directing straight to the Philippines.
Read: Grab to Pilot GrabWheels in Intramuros With Free Rides For 3 Months
Safe and secure tourism
This brings good news to local and foreign travelers as both the PNP and the Department of Tourism (DOT) signed a Memorandum of Understanding (MOU) that would strengthen and enhance the partnership between these agencies with the same goal to further protect and secure the tourism in the country.
General Oscar Albayalde, PNP Chief, together with Department of Tourism Secretary Bernadette Romulo-Puyat, inked the deal or the MOU in a simple ceremony held at Camp Crame in Quezon City.
What is the TOPCOP program?
TOPCOP or short for Tourist-Oriented Police for Community Order and Protection (TOPCOP) program is the program that the two (2) agencies are planning for better safety and orderliness in tourism.
Read: South Korea Advisory: Restrictions on Carrying Animals and Animal Products in South Korea
Albayalde said that the TOPCOP program, through the assembly of Tourist Police Assistance Desks (TPAD) in Police Stations of both cities and municipalities, as distinguished by the Tourism Department to be tourist destinations or adjacent to highly-recognized tourism areas; and through related and relevant training and capacity-building in both regional and provincial levels; tourist spots and destinations would be free from terrorism and external threats.
Albayalde continues to explain that despite various warnings and threats done by terrorists and criminals, the PNP, with him, was able to keep the country's crime rate at its minimal.
Amid the threats to security brought by criminals, insurgents, and terrorists, we have maintained peace and order and continue to keep the nation as a safe haven for tourists. "
Better tourism
On the tourism's side, Puyat, DOT Secretary, said that she is more than happy that the PNP and the DOT joined forces on this program. Not only would our country have safer and better tourism, this MOU would place a drastic emphasis on the fact that Filipino hospitality would have better standards.
Read: Good News! Easier Japanese Multiple-Entry Visas, Effective Now! 
She adds that her and her agency would not have been able to execute this alone.
We certainly could not do it alone, it is hence encouraging to know the PNP is rallying behind our tourism campaign of making travel around the country more fun, safer and secure. "
In her speech during the ceremony, she expressed her deepest gratitude to the PNP for making this happen. Saying that with the TOPCOP program, everyone will be able to enjoy safer, a much more convenient; and better tourism.
Thank you for willingly sharing this daunting task with us. The PNP's commitment to serve and protect through an equal service to our citizens and foreign travelers alike is laudable."
Developed tourist police
With this, General Albayalde said that the PNP is ready and prepared to provide utmost service in defending the country's hospitality and reliability to promote better tourism.
Tourist police are now highly trained well-equipped and constantly prepared in performing their duties to show that the Philippines is not just a beautiful country but a safe destination for tourists."
TOPCOP program
To give you some information, the TOPCOP program was able to train approximately 4,600 tourist police so far in various key tourist destinations nationwide.
Read: The Bicol International Airport to be Finished by June 2020
In addition to that, the PNP also built and established different tourist assistance centers in strategic locations all over the country; to comply with the bargain.
What other conditions are there in the MOU?
Apart from the condition above, the conditions in the agreement was the allocation of relevant and necessary funds and resources for both the maintenance and operations of Topcop.
In addition to that, the continuous development of a progressing training and education program for the members of the TOPCOP program; this is for them to enhance and improve their skills and capabilities in managing security in the destination and the coordination between different national government agencies, consortia in the private sector, and other stakeholders for support, aid, and assistance in the sustained operations of the TOPCOP program and its implementation and practice.
Puyat greatly lauded the PNP for accepting the covenant. More so, this move made them believe that it really is more fun in the Philippines.
We look up to you to fulfill our mandate of contributing more inclusive impact in the lives of our fellow Filipinos. With your help and with all of you present here we can rest assure that we are not alone in sending a strong message to our visiting tourists that our country will continue and always be a safe destination."
General Albayalde, on the other hand, stressed that they were able to extend effort to be able to meet what the government needs to achieve a more comfortable and better tourism.
We took another significant step forward in our shared effort to continually seek better ways to serve and protect not only our countrymen but also foreign nationals who come to our country to visit and see the sites and do business."
The Philippines is infamous for its countless incidents of crime, terrorism, and the like of events in the past; especially if the people involved are foreigners.
Read: 30-Day Visa-Free Stay in Cambodia for Filipino Tourists
Hopefully, this MOU signed by both the Tourism Department and the PNP would help in the development and the assurance that our country will have less and less terrorist instances and crimes.
What do you think about the signed deal between the DOT and the PNP? Could this really promote safer and better tourism? Would this help in controlling how terrorist instances in the country take place? Everyone wishes that with this jerked security by the team up of the PNP and the DOT, our country will be safer and more attractive in terms of tourism.
Source/s: Sun Star PH | The Philippine News Agency (PNA)