After the nationwide Dengue alert announced by the Department of Health (DOH), many people became aware and took better precautionary measures to avoid the condition. We posted an article on how you can keep yourselves and your families safe from it, too.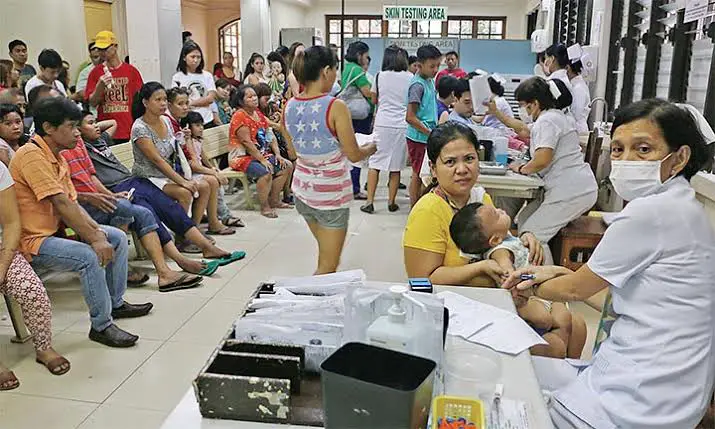 Just in at the start of this month, however, is the fact that the San Lazaro Hospital in Manila announced and confirmed that there are two (2) cases of meningococcemia in Manila.
Read: The DOH Bans the Use of Vapes and E-Cigarettes in Public Places
What is Meningococcemia?
Meningococcemia is not a condition that is easily pronounced. As a matter of fact, this condition is as serious as it sounds. This condition is a bloodstream infection that is caused by the Neisseria Meningitidis bacteria, meningococcus for short.
Do note that this infection is contagious and can spread from person to person through respiratory secretions. This is why the myth that this condition cannot be spread from person to person is false.
Development of other fatalities
The 2 cases of meningococcemia in the San Lazaro Hospital in Manila City might have been caused by a previously infected person.
Read: DOH Recommends Price Reduction For 120 Medications
According to HealthLine, meningococcemia can result in more serious conditions such as problems with blood clotting. There are times when this disease can escalate and include meningitis which can result in: hearing loss, gangrene, and brain damage.
Is Meningococcemia currently in the Philippines?
Based on the reports and data from the San Lazaro hospital starting a few weeks back, two (2) patients have been confirmed to have meningococcemia.
These patients, though, have already been placed in the isolation room of the hospital.
Read: No Vaccination, No Enrollment Policy – Suggested by DOH
Furthermore, back in September, a child was reported to have passed due to the said disease.
The Department of Health (DOH) reports that a total of 168 cases of meningococcemia was observed in the country starting January 1st, 2019 until September 14th, 2019. In total, eighty-eight patients passed because of the said disease.
How can meningococcemia develop?
Good news for adults because this condition is highly likely to occur to children who are under four (4) years of age. However, we adults cannot escape the fact that it can occur to us too.
Read: DOH Reminds Everyone of Flu Symptoms
Adults who usually get affected by this are adults who move into a different environment with a previously-infected person.
Moreover, being with someone very close (in contact) who has the disease puts you at extreme risk.
What are the symptoms of meningococcemia?
Some of the more common symptoms of meningococcemia would be:
Anxiety
Fever
Headache
Irritability
Nausea
Rashes (with small red dark spots)
The ones you see above are the "early" signs and symptoms of meningococcemia. Should the condition progress, and possibly meningitis can occur, these symptoms can appear:
Blood clotting
Shock
Lethargy
Blood patches under the skin
Read: Polio Reappears in the Philippines After 19 Years
How can meningococcemia be prevented?
The only thing doctors can prescibe to help everyone in all ages to prevent the said disease is by practicing healthy hygiene:
Thoroughly washing your hands
Cleaning your surroundings regularly
Covering both mouth and nose when sneezing and coughing
What if I came in close contact with an infected person?
As per healthcare practitioners and experts, after your close encounter with an infected person, your doctor might recommend preventive antibiotics.
On the other hand, getting a meningococcemia vaccine would be the best choice for how you can prevent it.
Read:  CONFIRMED – No Direct Deaths by Dengvaxia, DOH
The two (2) cases of meningococcemia were found to be in San Lazaro Hospital in Manila. This could mean that the infection spread from one person to the other; possibly, the child who passed last month may have been the host of the virus.
Treatment of meningococcemia
If you are diagnosed with meningococcemia, then it needs to be treated as soon as possible.
When in a hospital, you will be isolated and be injected (through a vein) with virus-fighting antibiotics.
The DOH, together with the San Lazaro hospital, reports that the patients who were found to be the 2 cases of meningococcemia have been isolated.
Read: DOH: Adults are Also Prone to Measles
Department of Family Medicine Chairman of the San Lazaro Hospital Dr. Ferdinand De Guzman said and confirmed that the symptoms seen were clearly that of meningococcemia.
Nasa isolation sila. Ang signs and symptoms similar to that of a patient with meningococcemia."
In Translation: They're already in isolation. The signs and symptoms they have are similar to that of a patient with meningococcemia.
2 cases of meningococcemia have been confirmed in San Lazaro Hospital in Manila City. Therefore, it means that the chances of this disease to spread are likely especially if the infected are not isolated appropriately.
Be sure to keep you and your families safe from meningococcemia and possibly, meningitis.
Source/s: Health Line | GMA Network