Jack Ma, Alibaba Group founder and China's richest man, is set to partner up with Filipino Boxing Champ Senator Manny Pacquiao to establish an e-commerce hub. The e-commerce hub, as per Ma, would be able to provide thousands of jobs to Filipino people.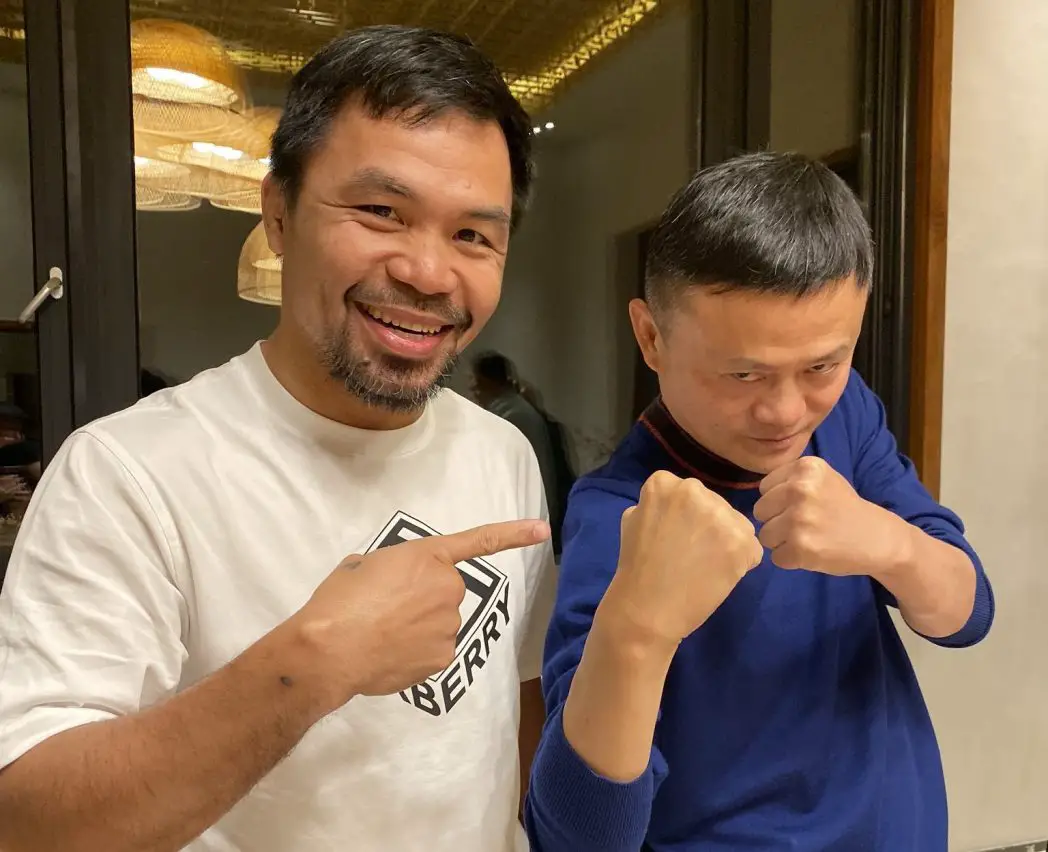 Pacquiao said that Jack Ma expressed his interest in investing here in the country. Not just for the sake of profit, he said, but because Ma wanted to help countrymen get more jobs.
Read: Around 2 Million Jobs to be Offered by Cebu City
Pacquiao and Jack Ma in communicating
The Senator said that he and the Chinese business tycoon has been exchanging messages. Ma had been wanting to help our country generate more jobs so that people here have stable income.
They've been talking about how they can both help Filipinos; how they can help the Philippines in creating more jobs. Having the same aspiration, both of them had the idea to set up a business here in the country.
Read: 2,000 More Jobs in Yukon, Canada, Announced by DOLE
A company to be run and managed by Filipinos
Senator Pacquiao even said that they've been exchanging words "for quite some time now." With the main goal of generating jobs here in the country. Pacquiao then discussed his interest that he wanted the business to be run by Filipinos.
As per a Philippine Star article, Senator Pacquiao went to Ma's residence and visited his farm. He wants to Hangzhou, China last week to discuss their new project. With that, Pacquiao said that Ma's going to visit him in General Santos City hopefully before the year ends.
Read: More Jobs for Filipinos by More Foreign Investments
E-commerce centers
With this, Pacquiao said that they both agreed that the best approach in this is for them to partner up in establishing e-commerce centers as well as logistics firms all over the country.
Ma said that he wants the pilot area for their project to be in General Santos City. Slowly but surely, he said that this will expand throughout the country. With this goal in mind, he said that their target of providing thousands of jobs to Filipinos would be in place.
Read: To All Expecting OFWs: Beware of Fake POEA Facebook Accounts
Pacquiao said that their collaboration will benefit at least a thousand of Filipino families. This will provide livelihood and indirect employment to those who are in dire need of it.
This should directly benefit at least thousands of Filipino families and also provide livelihood for millions more in indirect employment. These investments will surely need suppliers and manufacturers who also have to hire more people as they expand."
Helping the poor
Senator Manny Pacquiao and Jack Ma shared their similarities in their goal of "helping the poor." As per the Senator, they've exchanged stories on how both of them were victims of poverty before becoming who they are today.
He even said that they connected in terms of previous experiences. Senator Pacquiao and Jack Ma apparently experienced everyday hunger before who they are now.
Read: Israel is Looking For 1,000 Pinoy Hotel Housekeepers as per the POEA
We are very comfortable with each other because we came from the same situation. We both know how it is to feel hungry every day."
He explained that in coming up in providing jobs for Filipinos, they're not just economically helping the country; they're also helping the country rid itself of crime. With job-generation, people will less likely be involved with crime. Hence, making the country a better and a safer place for everyone.
If we are able to provide jobs for more Filipinos, we are not only helping their families rise up from poverty, but we are also helping the country in its fight against crime."
Read: Jobs For Senior Citizens Will be Allotted to Senior Citizens in Makati
Jack Ma recently retired from Alibaba as he wanted to pursue his goals in philanthropy and in education.
Pacquiao shared his favorite lesson that he learned from Ma from their meeting. He said that Ma reminded him, and this goes to everyone, that "You don't have to know a lot of things to succeed, you have to find the right people to do the job, and make sure that they work together, and believe in the same vision."
Hopefully, Senator Pacquiao and Jack Ma's project would become a reality. As it will not just help the country in creating more jobs for Filipinos, it can also help a ton of aspects that would help our country rise from our current situation.
Read: More than 1,000 jobs for PWDs, Offered by DOLE
What do you think about the e-commerce centers that Senator Manny Pacquiao and Jack Ma plan on establishing? Could this help the country in generating more jobs? Can this new e-commerce centers idea have positive effects on Philippine unemployment?