The 2019 Coronavirus Disease (COVID-19) has made the entire globe shake. It made Iran free 85,000 prisoners; it made Italy decide to let people older than 80 years old to be left untreated. It made big and tremendous decisions country leaders need to make.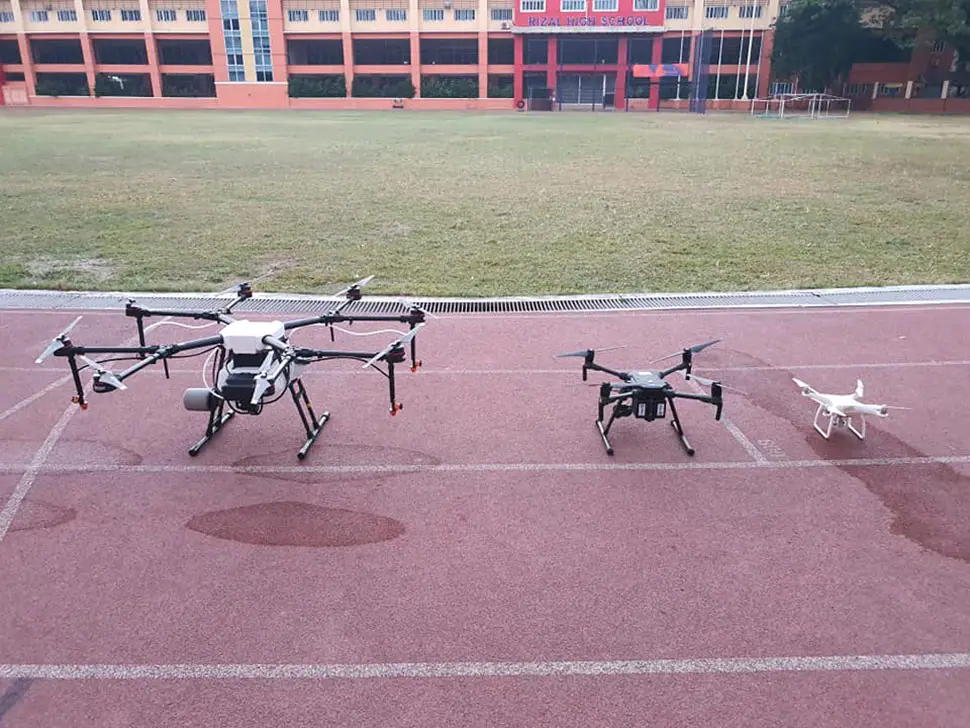 Here in the Philippines, one of the most notable acts came from the newly-elected Pasig City Mayor, Mayor Vico Sotto. His plan? It was more on a technological side – he decided to purchase drones to disinfect Pasig City.
Read: WHO Advises Everyone to Avoid Taking Ibuprofen When You Have COVID-19 Symptoms
Drones to disinfect?
Yes, you read that right. The drones that you see flying around with cameras; Mayor Vico Sotto, together with the Pasig City government, purchased and acquired three (3) units of drones.
The drones are of the DJI MG-1P. It is an octocopter drone that has a payload of ten (10) liters. It is capable of carrying 10 liters of disinfectants; it truly is something that will help the entire city with its COVID-19 dilemmas.
Read: 80-Year-Old and Older Italians to Not Receive Treatment If Hit With the 2019 Coronavirus Disease (COVID-19)
About the drones
If you are not in the now with drones, DJI is known to be the largest and the most advanced manufacturer of drones in Asia. They are one of the first few companies to ever produce a smart drone.
Each set of these drones costs P1 million in retail; and it's more than just a high-tech machine. In China, these drones are already being used as disinfectants. With its aerial sprays and disinfection properties, it can truly be substituted for manpower.
These drones were originally used to spray pesticides and insect chemicals in farms. Good thing that some people were able to see a better use for it in dire times of need.
Read: Local Government Units (LGUs) to Provide Public Transport Alternatives For Workers Exempted From Quarantine
How do these drones work?
Don't worry – we also were confused how these drones worked for disinfection. But it actually does make a lot of sense. You see, each of these drones has some type of canister for liquid; each of them has a 10-liter container.
When the drones take their flight, they can spray the liquid into the air, disinfecting a certain or a specific location.
In China, these types of drones are widely used to fight and to disinfect certain locations and communities. There, they use alcohol-based disinfectants. Sometimes, they use chlorine solution liquids and fluids to rid off streets and neighborhoods from the virus.
Read: Free 2019 Coronavirus Disease (COVID-19) Testing; Will be Shouldered by the PhilHealth
Benefits of using drones to disinfect
These drones offer a whole wide range of benefits to the people. It may be costly, but if you compare it to the emergency employment program (EEP) of the Department of Labor and Employment (DOLE), you'll see the difference.
The following are the wide benefits of using drones to disinfect:
DOLE has a plan to hire informal workers to disinfect communities; when we use drones, we let these workers be free from the dangers of being infected. Drones cannot be infected.
With their altitude, drones can reach certain places and locations that even multiple people are not able to reach. Using drones can be an advantage and as well as a solution to certain heights.
Think using drones to disinfect is costly? One drone can carry 10-liters liquid payloads; that is enough to spray an entire neighborhood. It can easily be reloaded again.
Read: This is How DOLE Will Help Informal Workers, Tricycle Drivers, Sidewalk Vendors
Are these disinfection drones being used now?
As of this moment, these disinfection drones are being tested in a High School in Pasig City. they are testing the efficiency of it. Should this become a successful project, it can help a multitude of people become safe.
Pasig City will be hiring less workers to disinfect neighborhoods and communities; they will be replaced by these drones.
Mayor Vico Sotto has been loud in social media these past few days. He has made a lot of benefits and advantages for the people of Pasig. He did too for the people in neighboring cities and municipalities.
Read: Here's a List of People Who Can Go Out During the Enhanced Community Quarantine in Luzon
Truly, Mayor Vico Sotto is someone who truly cares for the health and the welfare of the people. He allowed the returning of tricycles so that people can go out and purchase necessities such as food and medicine; he provided somewhere about 400,000 food packs for the citizens; and a lot more!
What do you thin about his move of purchasing drones to disinfect Pasig City? Is this a good plan or approach in battling the fast-paced spread of the infamous COVID-19?
Source: When In Manila | Esquire Magazine