Nationwide-renowned courier J&T Express had a blow up today about how the parcels and the packages are loaded in their trucks. The courier service provider, on one hand, apologized about how the video went. The publicity of the video reached hundreds of thousands of views on Facebook and in YouTube.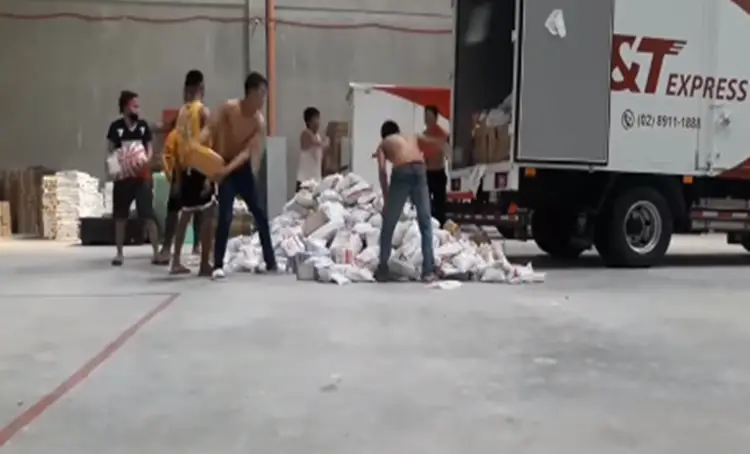 In their Facebook page, they stated their apologies for the unruly behavior of their personnel. They said that they were able to identify the people and that the people in the J&T Express viral video would be sanctioned.
Read: International Travel Likely Not to Return until 2023
Statement of J&T Express
As per the Facebook Post of J&T Express, they were able to receive dozens of complaints about how the video went. In the J&T Express viral video, there were multiple instances of complaints about their service.
We have received complaints on the mishandling of parcels as shown in a viral video, circulating on social media. We would like to reiterate that we do not tolerate such acts and behavior, and we humbly take responsibility for this incident."
In addition to that, they expressed their feeling of regret about the people involved in the video. Moreover, there would be sanctions to the people involved.
We have already identified all the involved personnel in the video. Proper sanctions will be given to them accordingly."
Read: Hotlines Broken, Users Complain Against PLDT and Globe
What Happened in the Video
In case you're wondering what happened in the video, you can check it here:
J&T Express sumagot na sa viral video na ito!!

Posted by Models of Manila TV on Monday, June 22, 2020
As you can see in the video, these J&T Express personnel are throwing parcels like a three-point shootout game without even thinking about the condition of the packages and the parcels.
Many people mentioned it like "they're treating the packages and the parcels are like trash and garbage;" this were the words that triggered the anger and the frustrations of people on the web.
Read: Mayor's Permit No Longer Needed in New Business Registration Process
Is Every J&T Express Like This?
Dozens of people, especially online sellers and frequent buyers were alarmed with what they saw. Most of them thought that every branch and courier service is the same; and people have been convinced that this is the regular way of how J&T Express operates.
That being said, the J&T Express company, in their defense, assured people that this is just an "isolated case" of their deliveries. They continued to say that their facilities are following strict health requirements in their shipments. Moreover, they gave a statement saying that all of their services are of a high quality.
Read: Online Sellers Paying Their Tax, Now Required by the BIR
Feedback From Clients
What type of reaction of feedback would you expect from the clients? There were some clients who knew this was happening in the first place; while there were those who didn't know about it.
In fact, here are some of the tweets and the reactions of the people regarding the viral video from J&T Express this morning.
WTF. I will never choose J&T Express to handle my parcel, never again. Kaya pala minsan may damage, and minsan yupit na yung product, especially those fragile one, they are very careless in handling it. https://t.co/eyyOpskjS7

— Benedict #JunkTerrorBillNOW (@_bensilog) June 23, 2020
Benedict, one J&T Express client, said that he'll never choose J&T Express ever again to handle his parcels. He even said that he now knew that this was the reason why there were damages to the products sometimes.
Read: The BIR Urges Online Sellers to Register Businesses as They Should be Taxed
BATCH 2 PH GO!, another Twitter user said that they'll no longer be using J&T Express as their courier service. Moreover, they assured all of their customers that they'll be sending emails before the service or the start of the shipment — to be bale to track the security and safety of their parcels and items.
[NOTICE]

We will no longer use J&T express as our courier. We will send emails to those buyers who chose their service before the shipment start. It is for the security and safety of our items/parcels. We still have Abest as our cheapest delivery service. Thank you! https://t.co/RLqiiehgiH

— BATCH 2 PH GO! (@motgPh) June 23, 2020
We would also like to assure the public that this is an isolated case. All of our facilities, including our branches and warehouses across the country, are under 24/7 monitoring. We also follow strict protocols in handling the shipments and ensure that these are handled with proper care."
Read: Tax Payments to be Done in the PayMaya App Through BIR and PayMaya Partnership
Taking Responsibility
The company said that they'll be mandating sanctions for everyone involved in the video. In addition to that, the courier service mentioned that they will never tolerate this illegal act; they said that they would take the responsibility over the parcel mishandling.
Have you seen the J&T Express viral video? Were you able to see how they personnel were treating the parcels and the packages? What do you think about their bad and unruly behavior in the way they were managing and handling parcels of their clients?
If you are part of the demographic who knew about it and you saw the video, would you still trust J&T Express? Are you going to still give them the trust in handling all your parcels and your packages?
Source: The Philippine Daily Inquirer