Are you part of the demographic who had water interruptions? How long was the problem in your location? If you are thinking that your water bill should be less than your normal bill to none, then you're correct because Manila Water Company Inc., made an announcement today, the 26th of March, 2019 that there will be a "one-time bill waiver" to sort of compensate to the thousands of people who experienced water interruptions.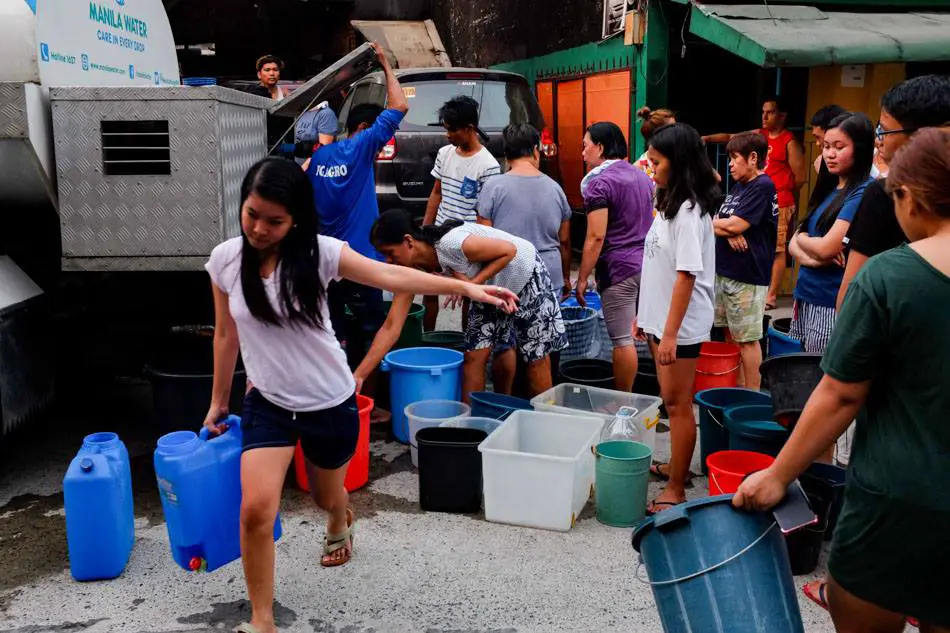 To give you a brief refresher of what happened, Manila Water made the announcement that there will be water shortages because of the El Niño season. As per them, some households in some areas of the Metro and cities adjacent to it will experience water interruptions.
How many households were affected by this interruption?
If you would care to look at the list as per the Philippine Statistics Authority (PSA), you will see that a lot of cities and barangays were affected.
The figure of the households affected by this outage was around 1.2 million — a majority of which affected the Eastern part of Metro Manila.
Furthermore, Manila Water, which is an Ayala company, said that the western part of the Metro Manila, even if they're also serviced by Manila Water Company Inc., will not be affected by this specific outage.
Read: Water Shortage Warning of Manila Water, Expected by 2021
Ferdinand dela Cruz, Manila Water President and CEO, said in a press conference, that they're in deep understanding of the situation.
We deeply understand the profound frustration that our customers have expressed in the past weeks. And to help ease in some way the inconvenience that we have caused… we are announcing a voluntary and one-time bill waiver scheme to be reflected in the April bill of our customers."
The Manila Water President and CEO said that all Manila Water customers will be able to receive a bill waiver of the minimum charge in the April billing, which, of course, is reflecting the March consumption of the service.
How much is the minimum charge that Dela Cruz is saying?
If you're unsure of how much the minimum charge is, it's actually equal to the value of ten (10) cubic meters of water supply.
This will range from P76.00 to P656.00; dependent, however, on whether their supply is used for industrial or domestic purposes, he added.
More good news for those who were affected! Manila Water will also be waiving the fees for the whole March consumption of the clients who are in the areas which were "severely affected" by this water interruption. This would include people who did not have water supply for 24 hours (1 day) for more than a week.
They will not be billed for their whole water consumption for March. Iyun pong pinaka-apektado, we are going to waive their March consumption. Kung kaya naming ibigay, ibibigay namin at ito po iyun. Alam ko hindi po namin puwedeng tapatan iyung inconvenience fully, but this is… separate and on top of whatever RO (Regulatory Office) will impose"
Manila Water is really making some adjustments here. Why? Because the simple fact of waiving to the minimum charge would already cost them around P150 million, as per Dela Cruz.
Read: Manila Water Rate Hike Starting October 16, 2018
And, this will not yet include the waived March bills of those who were badly affected by the water interruption.
Manila Water recovery of service
Dela Cruz also added that as of today, the concessionaire reduced their supply slippage to 107 million liters of water per day from the previous 150 million liters.
He said that Manila Water was able to restore their services to 97 percent of clients. These clients now have at least eight (8) to twelve (12) hour water availability at the ground floor level as of Monday night (25th of March, 2019).
Read: How Much Do Filipinos Need to Survive Living in the Philippines?
People are also able to see the improvement because from the previous 61 barangays who were badly hit, only eight (8) villages remaining are dependent on water tanks, static tanks, and interim water network solutions.
Manila Water President and CEO points out that there are still some streets, sitios, and small pockets who experience intermittent to no-water situations. This, however, is a result of adjustments in the pipes and pressure management.
Makakaasa po kayo (you can expect) that Manila Water will continue to work round the clock for our customers."
Dela Cruz also made a quick acknowledgement to some Local Government Units (LGUs) and other government and civic attached organizations in addressing the water interruption experience.
"I would also like to take this opportunity to thank all our partners who continue to assist our customers during this water shortage situation – all the mayors, congressmen, barangay captains, homeowners' associations, condo corp administrators, the Philippine National Red Cross, the Bureau of Fire Protection, DENR, NWRB, MMDA, DOH, Private organizations, NGO and many more good-hearted citizens."
Ayala, being known as one of the companies in the country to deliver the promise of excellent customer service, did it once again. Although this caused total inconvenience especially to some businesses which required water supply, hopefully this monetary adjustment is enough to mitigate the water supply dilemma that almost a fraction of our countrymen experienced.
Read: Effective Ways to Lower Your Water Bill
As a matter of fact, a lot of people did not think this to be possible. Imagine, some households did not have any water supply for a week! Some experienced this dilemma only for a few days but some who were slightly unfortunate experienced it until some time earlier this week.
Metropolitan Waterworks and Sewerage System (MWSS) Administrator Reynaldo Velasco, said that our dear President Rodrigo Duterte commanded authorities to submit a report on how they were able to address this water outage issue with a deadline on the 7th of April 2019. 
There were also reports that Duterte planned on penalizing the concessionaires for not being able to address the problem within a week's time. This, we think, was the reason why Manila Water Company Inc. President and CEO made this move of waiving the fees for the April billing.
Would this monetary relief offered by the leader of the Manila Water Company Inc. be enough for the inconvenience it had caused millions of households in the country? Would this temporary benefit be able to make up for the interruption of some businesses and operations in the eastern part of the Metro?
Manila Water Company Inc., services millions of households in Luzon. In fact, they service some Central Business Districts (CBDs) in the Metro like Quezon City, San Juan, Makati, and Taguig.