Metro Manila is one of the cities in the Philippines where traffic seems normal. A lot of things have been happening like banning vehicles with one passenger along EDSA, building a subway system in Metro Manila, and not allowing motorcycles in EDSA. A lot of people have the misconception that utilizing motorcycles in traveling can help ease the traffic but it seems that this situation is hopeless. However, a solution that seems legitimate and much more environment-friendly is on the loose—bicycles.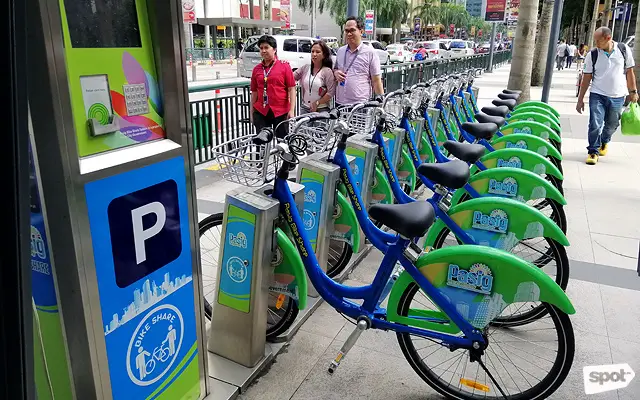 This is why the Metro Manila Development Authority (MMDA) had a free bike rental along EDSA in the year 2013. They had the hopes and assumptions that this would encourage commuters to try to ride a bicycle and beat the traffic our country is famous for.
Read: People Who Commute in Pasig, Brace Yourselves for the Traffic Because it Will Worsen Because of Road and Bridge Repairs
I know what you're thinking—wouldn't this be more dangerous? Technically, no because bicycle lanes were introduced. However, it has been long forgotten because of its narrow width and short length.
Pasig, on the other hand, is trying to revive this idea. Last 18th of March, the Pasig City local government had a soft-opening on their new bike-sharing facility.
Free Ride Bikes in Pasig?
A specific network of eight (8) bike stations were spread within Ortigas Center and Pasig City. These stations were strategically placed in front of buildings an will serve as what they call the hosts. 
Basing on the line up of these stations, a biker can go from Robinsons Galleria via the Ortigas Avenue route to as far as Shaw Boulevard, specifically at the City State Center Condominium which is beside the Ynares Center.
You can refer to the image for the stations: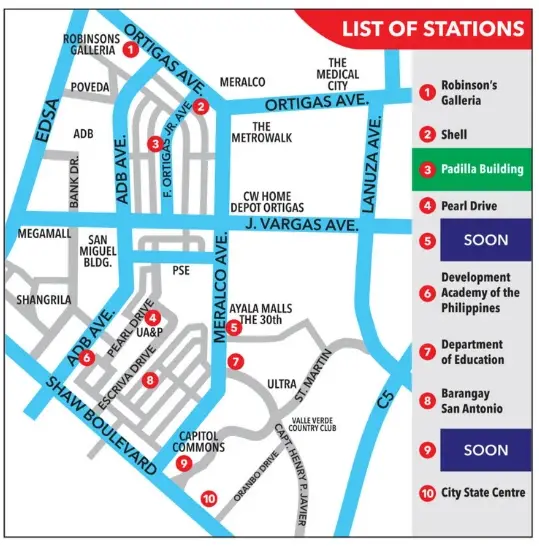 As of today, a total of one hundred (100) bikes are available for rent and as for each station, they're equipped with ten (10) bicycles which are parked with secured docks that can be accessed with an access card that can be rented for free.
Read: Provincial Bus Terminals Closure Along EDSA Starting June
Thomas Raymond Lising, Barangay San Antonio Captain, people who are interested can ride a bicycle for one (1) hours before it is expected to be parked at the next station.
Why are there time frames for each bicycle?
As per the Captain, having a specific time period for when each bike should be parked is going to ensure the effectiveness and the efficiency of the facility. More so, they can be sure that it's going to be fully maximized by all card-holders.
Also, the security is also a way to prevent the bicycles from being stolen.
When will the access cards be released?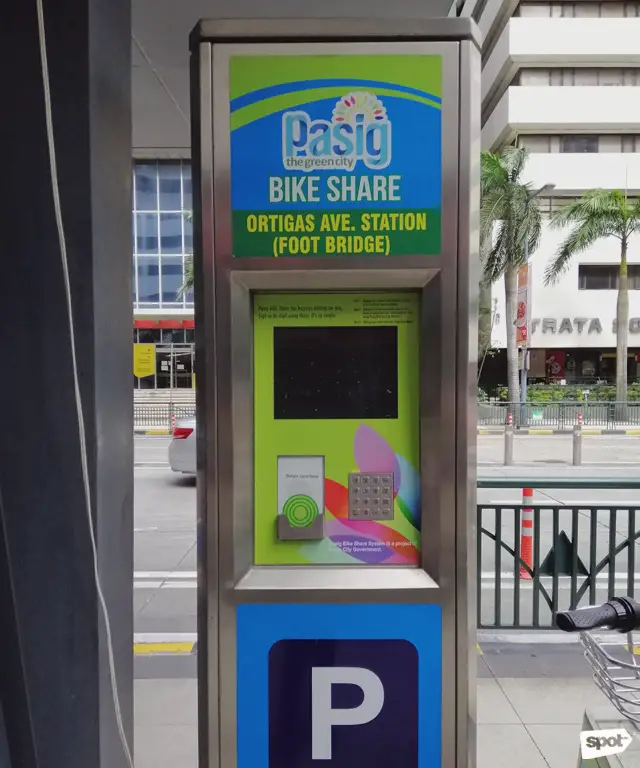 As per Captain Lising, the first one hundred (100) access cards will be in operation around the first week of April 2019. In addition to what he said, he also made a mention that sign-ups or registrations started since 2018.
The launch of the facility has just been delayed dye to the local city governance's study whether or not the operation of this bicycle scheme will be effective and can ease the traffic that the city and its neighboring locations experiences.
Read: Beating the Modern Manila Traffic
Can non-Pasig residents sign-up and get access cards?
As of the moment, not yet. The first access cards which will be available to the public is for Pasig residents only. However, the next deployment of these access cards will allow anyone, even those who reside in different parts of Luzon, register to be able to have access to free bicycle rides in Pasig City.
Lising explains further that the number of the people who visit and work in the city is the primary reason why they are going to release access cards even to non-Pasig residents.
The City of Pasig has a population of around 700,000 people. But due to the number of people that come in during the day, students and employees that attend schools and offices in Ortigas, that (number) rises to 900,000. It's only logical to make the facility available to even non-residents. That's the market."
Why Pasig City?
EDSA got the piece of this trial but people just disregarded the idea because hey, EDSA is one of the busiest places in the world. But, Pasig is known to be one of the top few cities which are visited by over a hundred thousand non-residents daily.
Read: New P2P Bus Routes for Daily Commuters
Other than the fact that Pasig and Ortigas City Center are two (2) of the busiest Central Business Districts in the country, they are more open in these types of arrangements. They have dedicated bike lanes which are even covered with plastic cones.
Pasig Transport, the  Pasig City Government's City Transport Development & Management Office, made a Facebook post that the bike lanes in the city cover already about forty (40) kilometers. With this new plan, they are having the plans of extending them up to a hundred and fifty (150).
What advantages could this free bicycle rides in Pasig City be?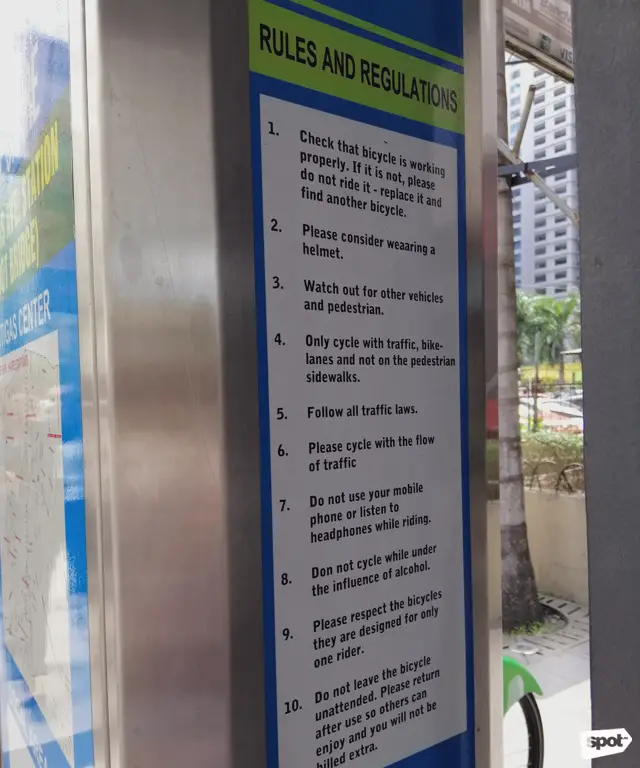 Better for commuters
Firstly, it's designed to help commuters escape traffic. The idea that the government is encouraging commuters to ride a bike instead is fascinating. Maybe, when a commuter experiences the convenience of riding a bicycle in Pasig City, they will resort to riding a bicycle instead of patronizing their daily commutes.
Plus! It's an excellent way to exercise. So, if you think you need exercise even if you don't have time because of your profession, you can utilize and use free bikes along Pasig City.
Of course, the traffic…
More so, it's something that the Pasig City government saw as a way of dealing with the heavy traffic that the Metro is giving commuters. With less cars and vehicles on the roads and more bicycles are emerging, bicycle lanes will be filled with bikes and the road will be less congested.
Less pollution
Using motor vehicles, as we know, negatively affect the air we breathe. With more bicycles on roads, there will be lesser vehicles and lesser commuters. So, not only would this help the culprit in traffic, it'll also be safer and better for our environment.
Read: Four Metro Manila Railways Common Station, to be Completed by 2022, DOTr
So, do you regularly have your daily commute to Pasig City or Ortigas City? Are you always stuck with the dilemma of leaving hours before your schedule just to be there on time? Well, anticipate that there's going to be less vehicles now because Pasig City is promoting free bicycle rides in their city.
When the time comes that the Pasig government decides to enhance bicycle lanes, you would want to choose riding a bicycle than commuting in the city, again.
Source: Spot.ph