A lot of Filipinos, especially those in the working class are "to-go" kinds of people. This simply means that they spend most of their days outside their homes. This is why the ABS-CBN, a nationally known media and entertainment group, launched the TVplus Go which is the mobile version of their TVplus program.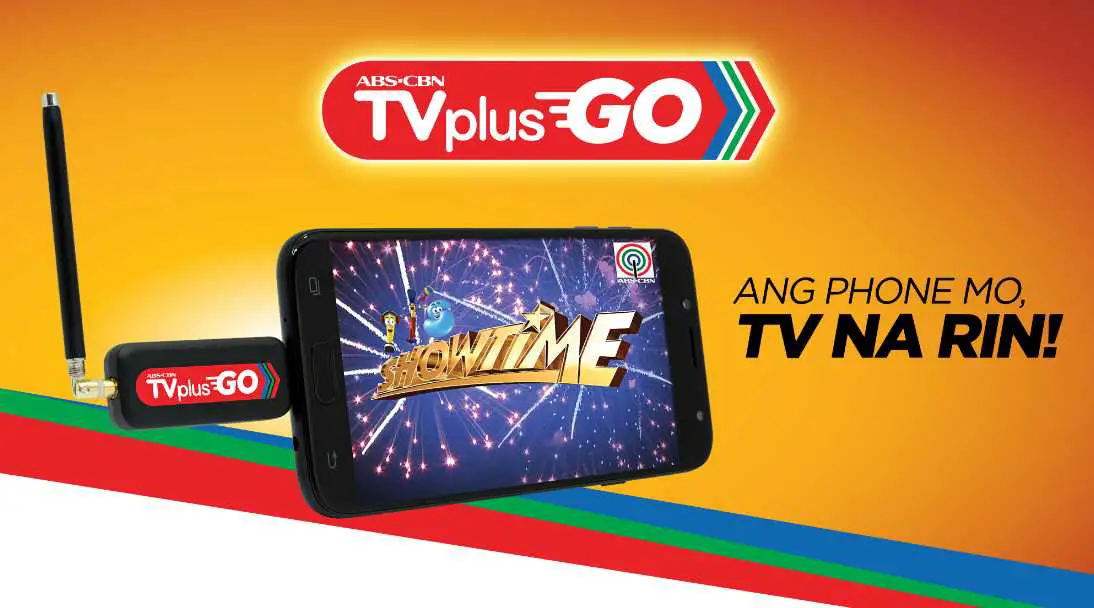 What is TVplus?
The ABS-CBN TVplus is a digital terrestrial TV provider operated and owned by ABS-CBN Convergence. TV Plus is somewhat an advanced type of cable which ABS-CBN takes pride on having better quality, exclusive with channels, and with no monthly fee!
Read: Huawei Smartphones to Not Have Facebook, Instagram, and WhatsApp Pre-Installed
If you are interested, you can click here to be redirected to learn more about ABS-CBN's TVPlus!
ABS-CBN's TVplus Go
On the other hand, ABS-CBN recently released their TVplus Go, which is the mobile version of the TVplus. Yes, you guessed it right, TVplus Go would allow you to turn your smartphones into a portable DTV!
The TVplus Go comes in a small package which includes both its antenna and its dongle. They are separate so you would need to attach the antenna first before using it.
Read: Baguio Bans Gadget Usage While Walking in Public Areas
One of the things that people loved about the TVplus Go is the fact that the dongle and the antenna is detachable—you can fit it in your bag and you don't need a lot of space for it. You can even put it in your pocket!
Is there an app you need to download?
Of course, the TVplus Go would need a software that would help it run. It will not run on its own. So, you have to download the newest TVplus Go Android application.
The app is 25 Megabytes so it won't be too much especially if you are fond of having lots of spaces for your memory.
After downloading, connect the TVplus Go to your smartphone and follow the setup process. You will be guided accordingly and there would be a manual along with the device.
The TVplus Go device
Some people might have bits of troubles with the device. Why? Because the dongle looks like the normal thumb drive except for the micro USB interface or port.
Read: Huawei's Special Warranty Program or Refund if the System Stops Working
Should you have a Type-C port, you would need a micro USB to USB Type-C adapter for it to work.
With the antenna, it can be used for you to adjust the angle if the reception is not being too well.
Benefits of the Tvplus Go
The TVplus Go has been in a lot of talks from the media and entertainment company. With the dongle and the antenna, watching your favorite Kapamilya shows is just as easy as 1-2-3!
This is best for outdoor use with TVplus signal areas. So, while you are in transit, during your breaks, or while you're bored somewhere and you need to watch something, you can use it!
Definitely no DATA Charges! Since you would be using an antenna, you would be connected automatically to networks in which it has TVplus coverage.
It works with USB OTG Android phones! You can check its compatibility at https://tvplusgo.abs-cbn.com/otg.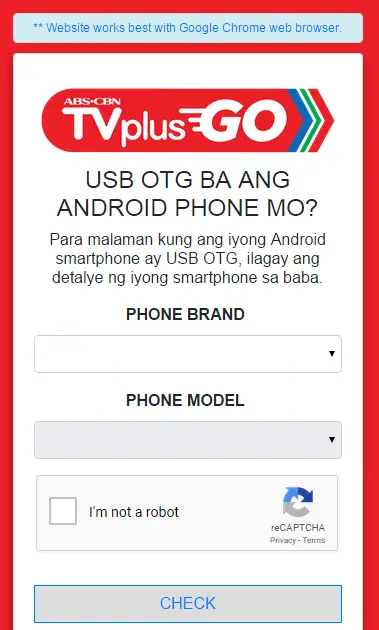 You just have to input your phone brand and phone model. After so, tick on the I'm not a robot tick box to verify that you are not a robot and hit on CHECK.
Read: iTunes Will be Removed as Apple Harmonizes Their Software
After everything, just open the TVplus Go app. It will detect different channels compatible in your area. More so, the channels would be dependent on where you are physically located.
If you're at home, it is advisable to work with this near your window or at the topmost part of your home.
Which channels are supported by the TVplus Go?
The following channels are the supported free DTV channels by the TVplus Go:
DZMM TeleRadyo
Knowledge Channel
Asianovela Channel
O Shopping
Jeepney TV
MYX Channel
Movie Central
CineMo
NOTE: In order for you to be able to access these channels, you would have to register. The FIRST (1ST) Android device you use it on will be for free!
On a second (2nd) device, however, it will ask you for a fee. YugaTech reported that it asked for P40.00 for it to be used on a second device; P20.00 on a third (3rd) one.
Read: A Majority of Filipino Kids Choose the Internet Over TV, Study
It might be a bit over but it is convenient especially with the fact that you are able to watch different TV shows in a wide spectrum of channels anywhere, anytime, and while you are on the go!
How much is the TVplus Go?
You might wonder and ask how much this device costs? Well, it is priced at P799.00. It's available in celltime branches in different SM Malls. You can also try to find it in different mobile and tech shops in different malls in the country.
What do you say about the convenience of the TVplus Go? Would this be beneficial in terms of saving a lot of people's times?
Is the ratio adjustable?
Yugatech showed us some of the features available from the TVplus Go. The aspect ratio is adjustable depending on the size of your screen. The quality isn't exactly at 1080p but it looks and feels great, as per YugaTech.
In addition to that, they said that they have been using their phone/s for hours and they didn't feel the phone warming. This could be because of the fact that the phone does not utilize any internal aspect from the phone. Instead, it's what the antenna and the dongle is for.
In their defense, ABS CBN said that they are looking to heighten their digital business in this year-round. They said that they are looking to invest its capital expenditures amounting to at least P6 million for this segment alone. So, it is quite clear that ABS-CBN is planning to improve on their business especially the digital side of it; they look to touch everyone who is in with their favorite TV shows.
What do you think about the TVplus Go? Can this be a good way to allow people to be on the go and for them to be able to watch their favorite TV shows as well? Can this be a positive note to both ABS-CBN and all its fans?