Good news to all travelers! The Philippine Airlines (PAL) is extending their ultimate seat sale booking period until September 15, 2019.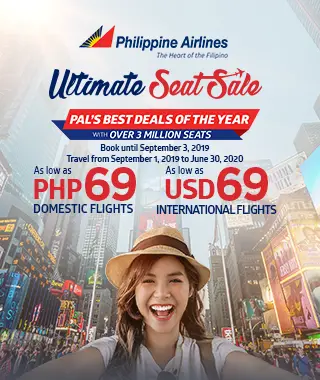 Read: NAIA Upgrade to Start Early in Next Year (2020)
What is the PAL Ultimate Seat Sale?
PAL's ultimate seat sale is the prime offer made by the flag carrier. Up to a total of 3 million seats are being offered at their lowest prices which start at ₱69.00 for domestic flights and $69.00 for international.
Originally, the offer lasted from August 28th until September 3rd, 2019.
Read: President Duterte Approves Law Adding 4 New Tourist Destinations in the Philippines
However, due to a large number of seats still available, PAL announced that they are extending their ₱69.00 ultimate seat sale until September 15, 2019!
Back in August, when the promo was first announced, Ria Domingo, Vice President (VP) for Marketing, said that Filipinos can now fully take advantage of this seat sale.
She also iterated that if anyone is interested, they should consider booking their flights now in order for them to secure their seats.
Experience full-service flights at highly affordable rates with the world's most improved airline – Philippine Airlines. Give yourself that much-needed vacation so take a breather and recharge, or better yet, you can now plan your trips until June 2020! PAL will take you there."
How much are the seats under the PAL ultimate seat sale promo?
So this is the question that most people beg to ask: how cheap are the seats?
Read: Updated List of What You CANNOT Bring in an Airport and an Airplane
In the ultimate seat sale promo, the lowest roundtrip economy base fare for the annum for a domestic flight is literally just ₱69.00. So it's not false information; it is actually legit.
International flights, on the other hand, is priced at a minimum of $69.00.
How about business flights? Are there promos for them too?
Fortunately, for people who tend and look for a more savvy or a more glamorous travel, PAL's ultimate seat sale promo offers a discount as well.
For people who yearn for a"more luxurious" travel experience, the promo, as seen on the first (1st) day, has a PAL Business Class ultimate seat sale promo for as low as $299 only (that is around ₱15,600); that is a roundtrip base fare on international business flights.
Read: Italy to Strengthen Its Relationship With The Philippines
Since it's a business class type of experience, a one-way ticket could also be eligible for this promotion. Only for as low as ₱4,059; passengers can purchase a one-way ticket to domestic flights.
How about the Premium Economy? Do they offer anything discounted?
Similar to roundtrip economy and one-way tickets, the Philippine Airlines' (PAL's) Premium Economy is being offered only for as low as $289 (which, again, is around ₱15,100). This is roundtrip base fare on international flights; for one-way base fares for domestic flights, the tickets are being offered for as low as ₱1,559.
Should interested people have any questions and queries as regards PAL's ultimate seat sale promo, the advisory said that they can freely communicate with them via the website, their email address, and their hotline.
Travellers may visit the website of PAL at www.philippineairlines.com to book their flights or call PAL Reservations at (+63 2) 855 – 8888. They may also visit any PAL ticketing office or communicate with any partner travel-agent for their flights."
To give you an idea, the flights that would have the minimum price internationally would be flights going from the country to Bangkok (BKK) and from the PH to Hong Kong (HK).
Read: NAIA's New Terminal Assignment Everyone Needs to Know (Updated)
As of this moment , PAL is operating across thirty (30) domestic and in more than forty (40) international destinations. These destinations cover and include: Asia, the Middle East, Oceania, Europe, Canada, and the United States.
Every year, the Philippine Airlines (PAL) holds a variety of seat sales for their passengers to avail. Most often, these seat sales are linked to or next to holidays for these are peak seasons.
Are you one of the people who looks to take advantage of PAL's ultimate seat sale? If you are and if you haven't tried getting a discount for your tickets, now's your chance!
Book tickets until September 15 and get the chance to enjoy a ton of discounts through PAL's ultimate seat sale.
Source/s: ABS-CBN news | Philippine Airlines Website (PAL)