Smart Communications is offering a once-in-a-lifetime deal! As they celebrate "all of their life's passions," they're giving away huge prizes from their Smart Giga Mania Raffle Promo.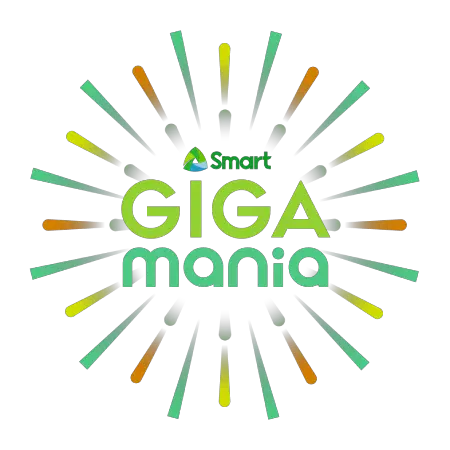 In this promo, Smart subscribers need to do is to register to different Giga promos. The different raffle promos are: Giga Video, Giga Games, as well as Giga Stories. However, there's a catch: you need to register to be able to get raffles and get your chances closer to winning the grand prize of P30 million!
Read: Learn How You Can Avail Smart's Free YouTube For All Promos
How can people join the raffle?
Prior to purchasing raffles, people need to register to the Smart Giga Mania Raffle promo first. Here's a step-by-step guide on how people can register to the biggest Smart raffle promo this year:
Dial *123# and access the Smart Menu
Hit on #2 (Chance to WIN 1M Pesos + Freebies)
Select #3 (Register to Join)
Then you will be asked to fill out the following:

Your complete name
Your complete address
Date of birth (MMDDYYY)

You will receive a confirmation message that says that you've registered and that you can start earning raffle entries by subscribing to any Giga promos.
Read: Cebu Pacific Seat Sale, Offers Over 1 Million Travel Deals
Who can join the Smart Giga Mania Raffle Promo?
As per the mechanics, the raffle is open to both new and existing Smart Prepaid, Talk 'n Text (TNT), Sun Prepaid, and Smart Bro Prepaid customers. So if you're currently a subscriber of a different provider, you can purchase and choose to be a Smart, TNT, or Sun Cellular to have a chance to win Smart's biggest raffle yet!
How can people earn raffle entries?
It is imperative that subscribers register because they can earn raffle entries by doing the following things:
Top-up of airtime or regular load
Prepaid subscribers who top-up airtime or regular load through the various ways of doing so are entitled to earn raffle entries. Yes, subscribers who just "load" up their accounts, earn raffle promos.
Registered subscribers shall earn the following raffle entries for every top-up of airtime or regular load via the different loading channels (including prepaid load cards):
Airtime or Regular

Load Transaction Value

Raffle

Entries

P50 to P98

10

P99 to P148

30

P149 to P298

300

P298 and above

1000
Availing qualified Giga promos
On the other hand, prepaid subscribers can also get raffle entries by availing Giga promos. They can do so by availing it via load channels or via using the air time to subscribe to Giga offers.
Read: COMPLETE LIST of TM Promos 2019 – Call, Text and Mobile Internet Data
The Giga offers available are:
Giga Video
Giga Stories
Giga gaming
Here's how many raffle entries subscribers can get if they get it via the retailer registration or the Smart app/Online Smart Store
Qualified Giga
Subscription Value

Raffle Entries
through SMS Keyword Registration/Retailer Registration

Raffle
Entries via UMB Subscription/Smart Online Store/Smart App
Entries

50 to 98

10

20

99 to 148

30

60

149 to 298

300

600

298 and above

1,000

2,000
As you can see, the number of raffle entries will depend on the channel used to subscribe to the giga offer. 
If you want to know more about how much raffle entries you're going to get, you can click here. Select How to earn raffle entries and win prizes.
NOTE: Postpaid subscribers are not qualified to join the Smart Giga Mania Raffle promo. The promo is only open to prepaid subscribers of Smart, TNT, Sun Cellular, and Smart Bro Prepaid.
Read: Smart Celebrates its 25th Anniversary by Giving Out their Biggest Raffle Promo, The Smart Amazing 25 for their Subscribers
Make sure that you're registered
Successful registration is the first step. Make sure that you're registered because if not, you might be loading and loading for nothing. What I did was I tried registering twice. After doing so, the system prompted me that I am already registered.
Subscribers who were successfully registered are the ones who will earn raffle entries via top-ups, purchases, and Giga subscriptions. Doing so before successful registration will not earn raffle entries. 
How does the raffle work?
There are weekly raffle earning periods and draw dates. Each weekly raffle will start from Monday and will end on Sunday except for the first week which was on October. The weekly raffle draws will be done every Wednesday from the start of the raffle promo with the exception of the draw for Week 16; where it will fall on a Monday.
Here's the schedule remaining for the weekly raffle:
Week #

Period

Draw Date

3

From Nov. 4 to
Nov. 10

Nov. 13

4

From Nov. 11 to
Nov. 17

Nov. 20

5

From Nov. 18 to
Nov. 24

Nov. 27

6

From Nov. 25 to
Dec. 1

Dec. 4

7

From Dec. 2 to
Dec. 8

Dec. 11

8

From Dec. 9 to
Dec. 15

Dec. 18

9

From Dec. 16 to
Dec. 22

Dec. 26

10

From Dec. 23 to
Dec. 29

Jan. 2

11

From Dec. 30 to
Jan. 5

Jan. 8

12

From Jan. 6 to
Jan. 12

Jan. 15

13

From Jan. 13 to
Jan 19

Jan. 22

14

From Jan. 20 to
Jan. 26

Jan. 29

15

From Jan. 27 to
Jan. 31

Feb. 3
Draw date for the grand prize would be on February 3, 2020. For the weekly, the schedule is how it was mentioned in the table.
Draw time of the weekly and the grand prize would be at 2:00 P.M.
Draw venue address would be on the 28th Floor, Smart Tower 2, 6799, Ayala Avenue, Makati City.
Read: How to Claim Your SMART Amazing Free Bonus
Would I know if I won?
Before the release of the prize, winners will be contacted and validated first via the call-out from an authorized Customer Care Officer using a Special Smart number. Moreover, an SMS will also be sent should you have won any of the prizes in the Smart Giga Mania Raffle Promo.
The winners will be called three (3) times within the specified period. Forfeiture of winners will be determined and assessed by the Department of Trade and Industry (DTI). The list of winners will then be published in the Smart website after the draw.
Should you have any questions about how you can claim the prize, you can click here. Select How do I claim my prize? And you'll be guided as to how you can claim your prize whether it's for the smartphone or the cash prize.
Read: List of Smart Home Boost Promos – 50, 100, 349 and 599 pesos
Who are not allowed to join the promo?
As per Smart Communications, people who are not allowed are:
All employees of Philippines Long Distance Telephone Inc. (PLDT)
All employees of Smart Communications Inc., and its subsidiaries;
Beyond Advertising
Ace Saatchi and Saatchi Advertising
AMDOCS Philippines including relatives up to third (3rd) degree of consanguinity or affinity
Why should I join this promo?
The promo is one-of-a-kind. Smart Communications Inc. does not regularly hold raffles like this. In fact, no mention of whether this will continue on has been announced. So, if you are a solid Smart, TNT, or Sun Cellular subscriber, why not join?
Registering is easy, you just have to follow our guidelines above and you'll have the chance to win up to P1 million on a weekly basis!
Read: One Centavo Per Text, Filed by Senator Imee Marcos
Until when is the promo?
The promo will run until January 31st, 2020. As we saw above, the last draw and/or the grand draw will be on the 3rd of February, 2020. So, be sure to check out your phone every now and then to check if you've won!
What are you waiting for? Register now and don't miss the chance to win awesome prizes and P30 million in the grand draw! If you have questions, concerns, and clarifications, you can refer to the Smart Giga Mania Raffle Promo Guidelines from the Smart Communications website!
Source: Smart Communications Inc.