A lot of people are being strongly drawn to games—both computer and mobile phone games. This is one reason why South Korea included computer games as one of their programs in higher education. Moreover, technology—specifically data, is known to be one of the most valuable resources we know of today.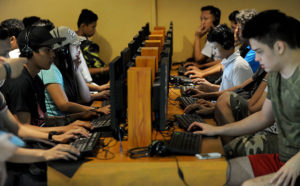 Here in the Philippines, thousands, if not millions, play computer and mobile phone games to pass time. Meanwhile, some people depend on playing well to make a living.
Read: A Study That Showed 7 Out of 10 Filipino Teens Don't Have a Dream
Filipinos playing online games
With the number of Filipinos—both young and old—playing online games now, it's not anymore a question on why some people actually think of it as a sport. In fact, there is a thing called esports.
Esports or electronic sports is a competition with the use of video games. So, technically, it's considered a thing; it's considered a sport if two (2) parties compete with each other.
Filipinos spend hours of playing in a particular day. Professional players in every field or type of game, however, are required to play a specific number of hours daily.
Southeast Asian Games
More commonly known as SEA Games, the Southeast Asian Games is a multi-sport event which occurs every after two (2) years and is participated by eleven (11) countries of the Southeast Asian region.
There are selected online games that will be included in the upcoming Southeast Asian games which will be held in the Philippines as medal sports.
But would the Department of Education (DepEd) be open in allowing these e-sports to be part of the Palarong Pambansa? Would it be just right for the Palarong Pambansa have these new and fresh online games that millions of people play?
Read: South Korea Goes Visa-Free For Filipinos Until April 2018
Revsee Escobedo, DepEd UnderSecretary and Palarong Pambansa 2019 Secretary-General that there have been no discussions whether or not esports are to be included in the Palarong Pambansa in the Palaro Board like DOTA 2 and Mobile Legends.
Escobedo said that the Secretary yearns to improve the Palarong Pambansa by adding larong Pinoy. Sadly, it's not in the plans to include online games.
The secretary wants to include larong Pinoy in the regular Palarong Pambansa sports. Maybe next year, we have larong Pinoy as demo sports with other sports. But not online games."
He also said that they and other people in their Department sees both the positive and negative sides in online gaming and that the important thing is to balance it.
There are positive and negative observations with regards to online games. What is important is we have to balance. What is important to us, the officials of DepEd, is the holistic development of our lifelong learners."
Although it's not in discussions today, they clarified that it's not actually final that they will not include online games in the Palarong Pambansa. In fact, they are currently in the process of studying the benefits and what students can get out of doing and playing Esports.
Escobedo further explains that the Department of Education (DepEd) is currently learning technology together with the Philippine Sports Commission (PSC) for new things to happen in the Palarong Pambansa.
Read: Complete List of TESDA Courses 2018
Some of the equipment we will use in Palarong Pambansa are borrowed from PSC like in swimming. Yes, we are adapting to the technology. We are implementing technological innovations. The PSC is very strict when it comes to compliance with international rules and standards."
Currently, there are 21 different regular sports being bidded which can be of use in the Palarong Pambansa in Davao City. This doesn't include the demo sports (dancesport and pencak silat).
What games could be added in the Palarong Pambansa?
Last Sunday, there were discussions and activities that new sports and games like sack race, tug of war, patintero, and kadang-kadang are to be included in the next Palarong Pambansa.
 Larong Pinoy is no longer part of the regular sports. But these larong Pinoy, these are cultural heritage that we cherished. This indeed a cultural treasure to Filipinos."
So, are you in favor of online games to be part of the Palarong Pambansa? Would this have a positive impact to the betterment of Filipino activity?