Pasig City is known to be one of the most crowded places in the Metro. With its size and number of Central Business Districts (CBDs), your experience will really be hellish if you go there during the worst times.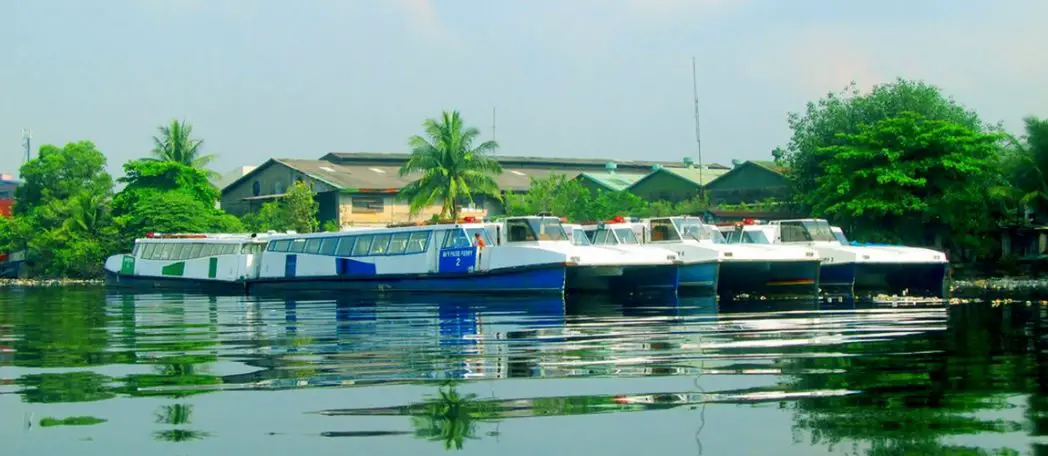 This is why the Metropolitan Manila Development Authority (MMDA), along with the Pasig City Administration, introduced a new 57-seater boat that would take more passengers than the conventional 15-seater boats.'
Read: New P2P Bus Routes for Daily Commuters
Pasig River Ferry System
Before the river got contaminated, it was one of the prime means of transportation in the Metro; you can ask your grandparents about it. It's actually one of their favorite modes of transportation because of its speed and availability. It is, however, worth noting that the current ferry system we now use just started back in 2014.
Out of the fourteen (14) ferry stations that are present, only eleven (11) of those are operational. In addition to that, just two (2) boats are rotating, servicing passengers on a daily basis.
Senator Sonny Angara, said that if the boats and the ferry system gets rehabilitated to its fullest potential, it could carry passengers along the Mandaluyong, Makati, and even Manila areas.
Read: Officials Who Earn P100k or More a Month Should Ride Public Transport as per Lawmaker
New 57-seater boat
The newest addition to the fleet would be a 57-seater boat that was dubbed as "Mutya ng Pasig." It's currently in the testing stages of the Pasig City Administration along with the MMDA.
They're loving and liking the new boat because of its drastic addition in capacity. The usual boats that operate currently only hold 15 passengers in one trip. With this, it's capable of ferrying 57 passengers!
When would the new boat be operational?
As per some sources, the new 57-seater boat has a target date for its operations on the 1st of December, 2019. Yes, only a few days left and commuters will finally be able to ride this newly-acquired boat.
Read: How do Modern Jeepneys Look? Here's a Sneak Peak of Them
Gadget Addict, a video creator on Facebook, posted a video with the new 57-seater boat floating along the river. No mention of it was made on whether it's a trial run or if it's being offered to a few people but what we know is that it's amazing to see such a new innovation to help commuters in the Metro.
You can watch the video by clicking here.
The good news about the new 57-seater boat is not just the boat itself; but what's in store for the commuters! Inside the boat, there are life vests as well as CCTV cameras installed. In addition to that, we take pride in this new addition to the fleet because it's Filipino-made!
Although the new boat is not air-conditioned, you can be sure that you'll get to your destination without squeezing yourselves in the hefty traffic.
Read: What Causes Metro Manila Traffic? Here's What's Causing it, According to the Metropolitan Manila Development Authority (MMDA
Current ferry situation
If you're unaware, the Pasig River Ferry System has eleven (11) stations. These stations run from Pinagbuhatan, Pasig City up to Escolta, Manila. Yes, by riding a ferry, you can pass through the traffic in EDSA! With a ferry, you can ride from Pasig all the way to Manila without indulging yourself in the infamous traffic that our country is known for.
Newly-elect Pasig City Mayor Vico Sotto also said that our country is in dire need to invest in mediums like this. Why? Because this is one way on how daily commuters can beat the traffic.
Read: Proposal of Food and Bus Terminal Plans by San Miguel, Aims to Decongest EDSA
If everything goes well with the MMDA and the river ferry runs smoothly, we're willing to buy more. We really need to invest in the river ferry. This will really help with traffic congestion and mobility of our citizens."
Furthermore, Mayor Sotto said that the new boats were actually acquired by the previous Administration. Meaning, it's not his Administration responsible for the development of the Pasig River Ferry System.
However, he said that it won't be fun and games; there are tons of obstacles they need to address and answer first such as the abundance of water lilies in the rivers; the continuous outflow of garbage and intoxicants, and many more!
Read: 5-Minute Smooth Travel Time Between Cubao and Makati, Soon as per President Duterte
But, Mayor Sotto ensured that he'll tirelessly be working with the MMDA to ensure that our country will be getting the enhancements it needs to beat the traffic and to help the mobility of the commuters.
What do you think about the new 57-seater boat that would soon sail to bring passengers to and fro Pasig City and Manila? Could this greatly help in improving public transport in the country?
Source/s: Gadget Addict Facebook Page | Spot PH