South Korea has been one of the most influential countries for us Filipinos. In fact, many Filipinos idolize and dream to visit South Korea to see their idols. From the fashion and style-of-clothing, to the hair style, it is evident that Filipinos really admire South Korea and what it offers.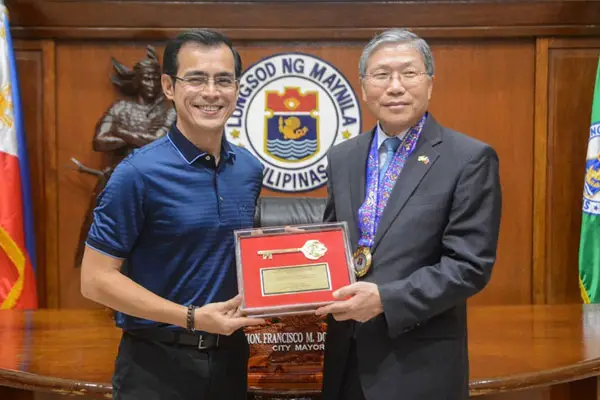 Read: Newly-Elected Manila City Mayor Francisco "Isko Moreno" Domagoso Promises to Create More Green Spaces in Manila City
But if that's the case, why isn't there a specific place here in the country with South Korean culture like Chinatown in Binondo? Well, if some sort of a South Korea Town is something you wish for, the wait is over.
Read: South Korea Advisory: Restrictions on Carrying Animals and Animal Products in South Korea
Korea Town to be established in the Philippines
Han Dong-man, South Korean Ambassador to the Philippines said that there are plans of developing a "Korea Town" here in Manila. In addition, he said that part of the plan was to establish it in Malate where many Koreans visit because of the variety of Korean restaurants and spots there.
He continued that they wanted this place because it's where most Korean tourists visit. Furthermore, Han said that there are plenty of Korean offerings there, too such as shops and restaurants. In fact, the South Korean Ambassador to the Philippines said that about 1.6 million Korean tourists paid the country a visit in 2018 alone.
Read: About 56,000 Foreign Workers to be Accepted by Korea in the Year 2019
There are a lot of Korean restaurants and many Korean tourists visited there. With Manila City, we are envisioning to make that area, Malate area, as Korea Town."
When would Korea Town come to life?
According to Han, there's no specific timeline yet of when it'll be done. But, he already asked for the hand of Manila City Mayor Francisco "Isko Moreno" Domagoso in developing this. As per him, he asked "Yorme Isko Moreno" for his full support on this plan.
Read: Korean Language to be Taught in Public High Schools Around the Country
I asked also him to lend his full support."
Moreover, he claims that he already met with the Korean Business Association of the Philippines and that a proposal is already being drafted.
How can this benefit the Philippines?
If you think about it, a Korea Town set won't be of any help to the country economically. However, with a town like that in place, many more Korean tourists will be enticed to visit the country.
Read: President Rodrigo Duterte Approves Law Adding 4 New Tourist Destinations in the Philippines
Last year's 1.6 million visitors was already good; however, he made a promise to President Rodrigo Duterte that he'll increase the number of Korean tourists to 2 million in his term of being the South Korea Ambassador to the Philippines.
I made a promise to bring at least 2 million Korean tourists during my term."
Philippines and South Korea relationship
If you weren't aware, the Philippines share a great deal of friendship with South Korea. In fact, we, together with them, are celebrating the 70th anniversary of bilateral relations.
Read: Taiwan is Visa-Free for Filipinos Until July 2020
From different job opportunities in South Korea, to assistance in military services; we can bank on South Korea for whatever our country needs assistance with.
Keeping the tourists safe
While Han promised to bring in more tourists, he said he also asked President Rodrigo Duterte to keep Korean tourists safe. He added that many Koreans love the Philippines and everything they offer.
Read: South Korea Donates Warship to the Philippine Navy
Many Koreans love this wonderful country. I'm trying to diversify the tourism destination for Korean tourists so I have visited more than 30 local areas. There are so many wonderful festivals…I'd like to invite Koreans to enjoy the local festivals."
He also noted that South Korea gave the offer of $100 million in the official establishment of the new airport in Dumaguete. Han said that the location has a good diving spot that most tourists will love; he said that the location that that spot will be one of the main destinations South Koreans will be visiting.
There is a wonderful diving spot, there is a wonderful Silliman University, so after completing the area, I think Dumaguete will be one of the wonderful tourism destinations."
Read: Isko Moreno to Turn Manila City Into a Smart City
Are you a South Korean fan? What are your thoughts about the establishment of a Korea Town in Malate, Manila? Could this help the Philippine economy rise from its current state? Can this bring in more foreign tourists other than just South Korean tourists?
While there is no target date yet on when Korea Town will be finished, it's already in the works. Korean fans, let us keep our fingers crossed that this will become reality.
Source/s: ABS-CBN News | Manila Bulletin News