South Korea has been one of our country's best mates in terms of everything. From tourism and culture, to defense and military purposes, we're closely tied with them. After the announcement that the Philippines will be pushing a visa-free entry to South Korea, an agreement to boost ties in tourism between the two countries was signed.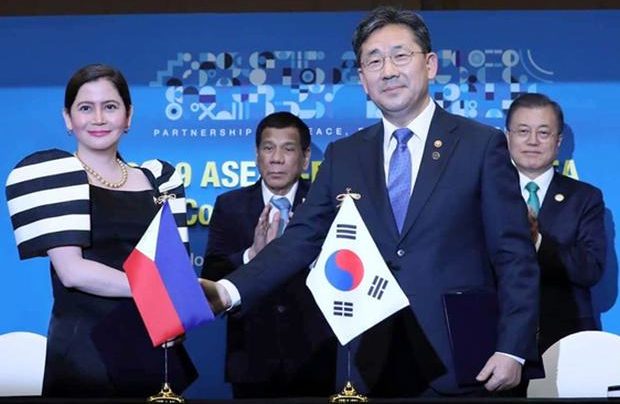 Bernadette Romulo-Puyat, Department of Tourism (DOT) Secretary, signed a 5-year tourism deal between PH and South Korea. The signing took place in Busan, South Korea and it was administered with Park Yang Woo, South Korean Culture, Sports, and Tourism Minister.
Read: Korea Town to be Expected in Malate, Manila, Says South Korea Ambassador, Han Dong-Man
9 years of being the top market source
In a speech she delivered during the signing, Puyat said that with the agreement, both countries can expect better tourism ties that has been never before seen. She said that this agreement has been waited on for so long and it's finally coming to reality.
For nine (9) years now, Korea is undisputed in its position as the top source market of the Philippines. With this renewed pledge on tourism cooperation between the Philippines and Korea, we are hopeful we can sustain and intensify the already-strong ties with Korea that we enjoy."
Read: South Korean Visa Applications, Made Easier For Filipino Applicants
The Implementation Program on Tourism Cooperation
The agreement which is formally known to be the Implementation Program on Tourism Cooperation (IPTC), will be running and valid for five (5) years; from 2019 until 2024. The goal of this cooperation program is to strengthen the tourism promotion of the two (2) countries; making both countries more accessible to one another and in ensuring the security of tourists.
Read: South Korea Advisory: Restrictions on Carrying Animals and Animal Products in South Korea
Not just that, it also aims to align the tourism efforts of both South Korea and the Philippines. In simpler terms, when Filipinos visit South Korea, our safety and security, and the quality of experience we can expect will be better.
It will be an overall improvement in the experiences of both Koreans in the Philippines and Filipinos in South Korea.
How the Philippines benefit from South Korea
The bilateral relations between South Korea and the Philippines aren't new. In fact, many nations have regarded to it as a mere defense mechanism because we want to keep our nation safe.
Read: Around 56,000 Foreign Workers to be Accepted by Korea in the Year 2019
Within the past months, our country has received several gifts from South Korea. For instance, a navy warship from South Korea was donated to us to further strengthen our naval forces; a few more is expected by our naval forces.
In terms of the 5-year tourism deal between PH and South Korea, the Philippines gets a hefty amount of tourists from them. In fact, back in 2018, the Philippines was able to book about 1.6 million tourist arrivals from South Korea. This is about 22.8 percent of the total visits/arrivals on that year. 
Furthermore, from January to September 2019, the Philippines gathered about 1.45 million arrivals of tourists from South Korea. This figure translates to 23.6 percent of the total on that date range.
Read: Taiwan is Visa-Free for Filipinos Until July 2020
Clearly, we are benefiting in terms of tourism because of the huge chunks of tourist arrivals from them. Puyat said that the Tourism department will be trying a more effective and aggressive campaign to capture more Korean clients.
To sustain the momentum, the DOT will embark on a more aggressive marketing campaign to continue to capture a bigger chunk of the Korean market."
More direct flights
Puyat also mentioned that their agency would be encouraging airlines to directly fly to international gateways instead of just Manila airports to South Korean major cities. This way, even people from different provinces such as Cebu would not longer have to fly to Manila just for them to arrive in South Korea.
Read: 30 Day Visa-Free Stay in Cambodia for Filipino Tourists
The DOT Chief also said that the improved figures affected the betterment of the air connectivity between South Korea and the Philippines. She said that it translates to the creation of fourteen (14) flights to the Philippines from South Korea. Some of these flights are:
Muan-Clark-Muan
Daegu-Kalibu-Daegu; and
Incheon-Bohol-Incheon
Hopefully, the 5-year tourism deal between PH and South Korea would be a way to finally be granted the visa-free entry to South Korea. Puyat concluded by saying that the growth they're seeing inspires the whole agency; it inspires them to work harder to show Koreans the reasons why they need to come and visit the Philippines.
Read: Guide: How Can I Apply for a South Korean Visa?
Are you a fan of South Korea? Do you enjoy their culture? Hopefully, this inked 5-year tourism deal between PH and South Korea will spark a better relationship between the two (2) countries.
Source/s: The Philippine Daily Inquirer | ABS-CBN News