Other than the thrill of receiving 13th month pays and bonuses, everyone has a chance to get a free smartphone this year! And this is not some sort of raffle, people will really get it for free! In this article, we will be guiding you on how you can get a free smartphone that you can use or give as a gift for the holidays!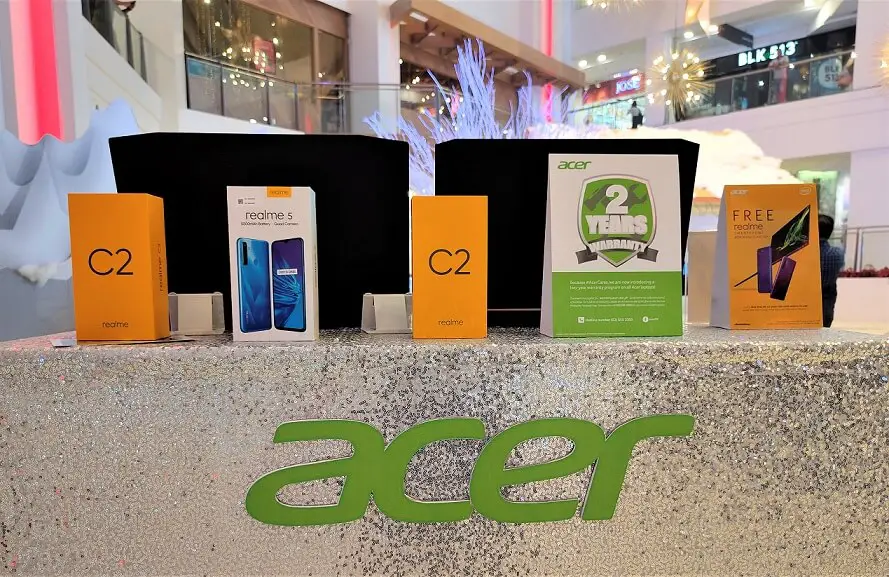 Acer, a multinational tech company, made a partnership with RealMe, a Chinese-company tech smartphone line to give free smartphones to people during the holiday season. Yes, you read that right! You have the chance to get a free smartphone this year!
Read: What is the Globe GoWiFi Feature and How You Can Use it
How do I get a free smartphone?
As part of Acer and RealMe's holiday promo, to celebrate both the #ExperienceRealConnections and the #RealHolidays, they partnered up with RealMe to give away free smartphones upon purchase of Predator and Acer laptops!
Gadget lovers will be able to get a free smartphone when they purchase any of the qualifying Predator or Acer laptops. The laptops eligible for you to get a free smartphone would be:
Predator i5 laptops
Acer i5 laptops
Predator i7 laptops
Acer i7 laptops
AMD Ryzen 5
AMD Ryzen 7
Read: LIST: Avoid These Android Antivirus Apps that Contains Malware and Other Unwanted Software
People who purchase Acer laptops would be given the RealMe C2 2020 with 2GB RAM and 32GB internal memory. The smartphone costs P4,990.00, and buyers of Acer laptops would be given this for free!
Predator customers, on the other hand, will be given the RealMe 5 with 3GB RAM and 64GB worth of internal memory. This baby costs P7,99.00 and yes, it's going to be given to customers for free, too!
How would people qualify for the holiday promo?
Upon purchase, agents and sales people would be educating you about this. But, what you need to do to be able to qualify for the freebie is to register your new purchase for a warranty with acer! Note that warranty for Nitro, Predator, and Acer laptops are given two (2) years of warranty, so it's also a win-win for you!
Read: Samsung Galaxy Fold to be Available in the Philippines Soon
You can do that by accessing https://warranty.acer.com.ph within two (2) weeks of purchase! To be able to get a free smartphone, you'll have to register through this warranty program by Acer.
Here's a step-by-step guide on how you can get a free smartphone
Upon purchase of the eligible products, an electronic voucher (e-receipt) is given to the customer. Then, an email will be provided that signified that the free smartphone has been granted.
Once the email has been received, customers just then need to print out the vouchers to be able to claim the free smartphone at any of their designated RealMe redemption centers.

NOTE: All customers must ensure that they register within seven (7) days of purchase. Failure to do so may result to the forfeiture or delay of the recipient of the free phone.

Take note that a valid government ID (with date of birth) must be presented upon the redemption of the smartphone. Failure to present a valid ID might result in the forfeiture of the promo.
Read: URGENT: Delete This Android Video App Now Because it's Hiding Malware
To know more about the #AcerXRealMe promo, you can refer to their website at https://www.acer.com. Alternatively, you can follow them on Facebook at @AcerPH; or their Instagram at @acerph; their Twitter account at @acerphils.
Acer Philippines General Manager Ms. Sue Ong-Lim, said that they're excited to partner up with RealMe for this holiday promo. She continued to say that both companies believe that the development of products can help fill in the gap of customers.
Read: Want to Get Your Hands on an iPhone 11? Trade in Your Old iPhones For a New iPhone 11
Acer is excited to partner with realme for this holiday promo as we both believe in developing products that can help bridge the gap and let our customers #ExperienceRealConnections."
Until when is the free promo effective?
The free promo runs from November 15th, 2019 until December 31st, 2019. All customers are given sixty (60) days to redeem their electronic vouchers until the end of the promo.
Read: The 2020 iPhone Might Make You Think Twice About Purchasing the iPhone 11, Here's Why
So if you're looking for a nice gift for your friends and family this Christmas, this might be your chance! Upon purchasing a new laptop, you also get a free smartphone!
What are you waiting for? If you're looking for a laptop that is reliable, choose Acer! As they are celebrating the #RealHolidays as well as the #ExperienceRealConnections, they're giving away a free smartphone to people who will purchase a laptop!
Now, your Christmas will really be the most beautiful and the most wonderful time of the year!
Source: Manila Bulletin News