Google Limited Liability Company (Google LLC), is an American multinational technology company; also known as the world's most visited website last 2017. From their search engines, which is their most popular variant, they were able to develop different services and products like cloud computing, online advertising technologies, and affiliation.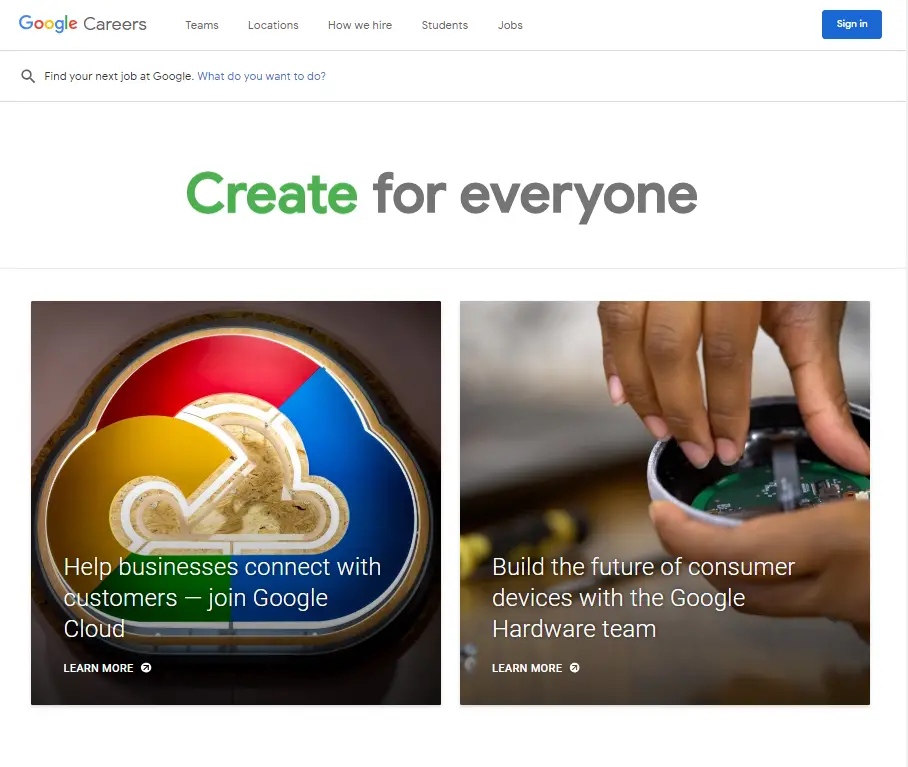 If you haven't known, Google is one of the Big Four technological companies together with Apple, Facebook, and Amazon.
Read: Over 300,000 Jobs in Japan is Going to be Offered; Filipinos are Their Priority
Can you imagine working on a setup like this? If you can't, then try watching the movie The Internship, starred by Owen Wilson and Vince Vaughn — you'll definitely see and wish you're working for Google.
Good news to those who wish to work for this technology giant because last Friday, the 22nd of March 2019, Google said that its search function in the Philippines would require people.
This means that they will be opening jobs for people to aid them in running their search engines. Approximately, they would include jobs with around 500,000 listings when they launch.
More jobs for Filipinos through the Google Search Engine
According the the tech giant, this will capitulate results from partners like Kalibrr, the Civil Service Commission (CSC), the Department of Labor and Employment (DOLE), and Jobayan Jobs Cloud.
Read: Are You Looking to Work Abroad? Thousands of Jobs in Europe for OFWs are Available
Stacie Chan, Google Asia Pacific Product Partnerships Manager, said that connecting Filipinos to have job opportunities would be a heap of a challenge to them.
Apparently, a third of the entire workforce of the Philippines are millennials and would require serious training and effort to yield the best types of workers.
Recently, Google set out the announcement that they will be bringing free public wi-fi access to the Philippines and will be named as Google Station — Google Station, in the Philippines, as per the technology giant, would allow more access to students who are traveling, keeping them busy while they're on the road.
Read: Google Station Brings Free Wi-Fi to the Philippines
Users can filter results based on the following according to Google:
Industry
Location
Position
Posting date
These are the things that could Google users could filter. More so, they can opt and subscribe to notifications about job openings, if they wish to, too.
Using the Google Job Search Tool
If you share any interest about this news, then you're in for a treat. Proceed to the job search tool by going to https://careers.google.com/jobs/.
Once there, you will see the simple guide on how you can utilize the Google Job Search Tool.
Inside, you will be welcomed by this page: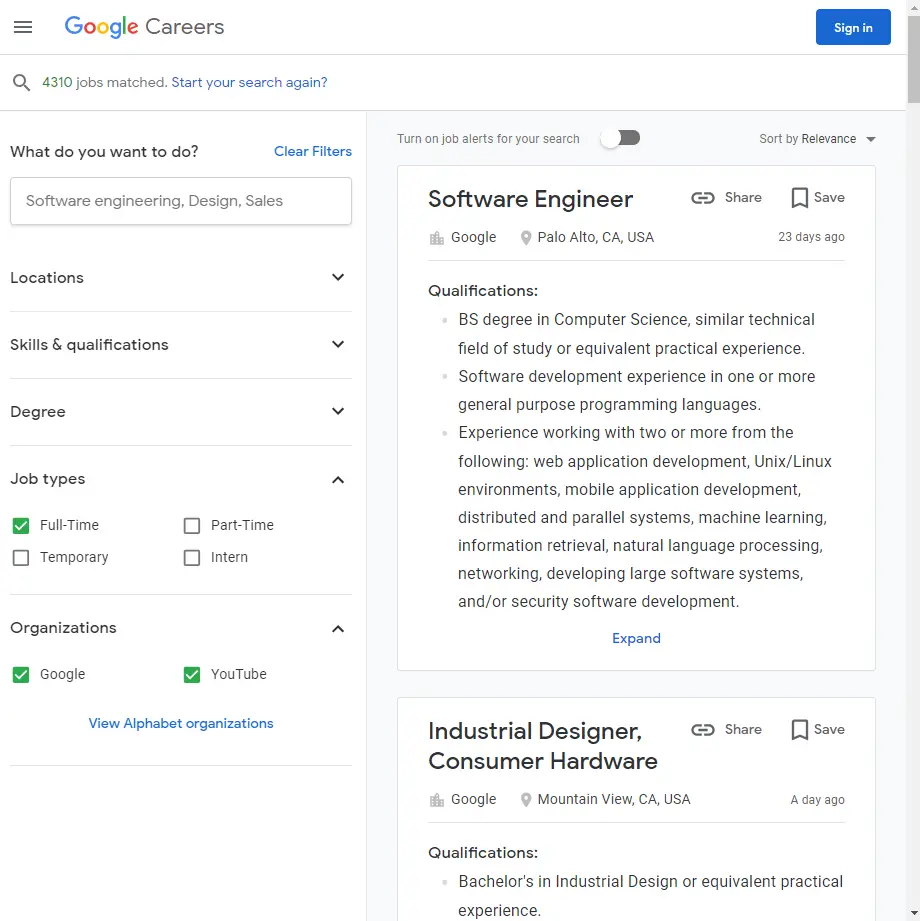 At the left-hand side of the page, you can see the filters you can use to specify the job or the path you are looking for.
What do you want to do?
This option, of course, is straightforward. By specifying what you want to do, you can directly find the job you are looking for.
Location
Partner that up with locations, you can set the proximity of the career or the path Google has in store for yourself.
Skills and qualifications
This part, however, is like the part where Google will filter people based on what they can do and what they have achieved.
Degree
This would allow you to specify what program you've completed in college — by toggling and filling this out, you are specifying what qualifications you have and Google will try to find something fit for you.
Job types
You can choose from the following options: Full-time, part-time, temporary, intern.
Organizations
Since Google has a lot of subsidiary companies, you can choose different companies and/or organizations which are in partnership with Google.
YouTube
Google Fiber
Wing
X
Waymo
Loon
Chronicle
Verily Life Sciences
Read: Permanent Mobile Number, Approved by Duterte
The Google Careers Menu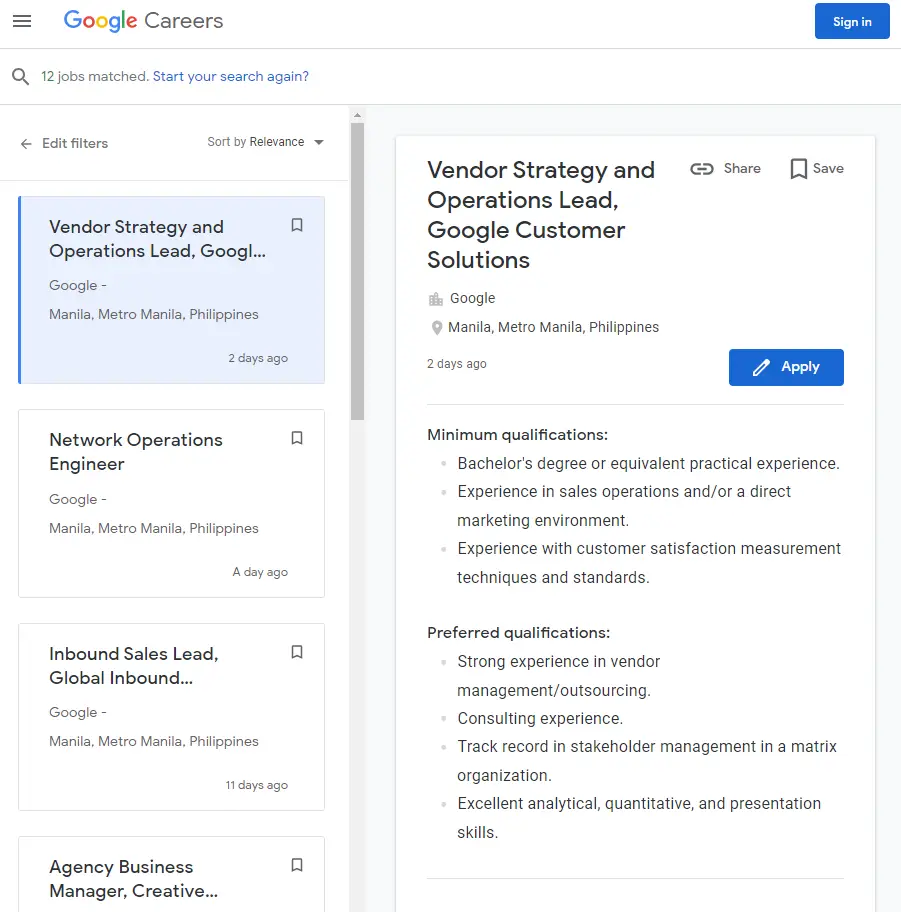 If you look at the top part of the page, you will see a menu which has the following options:
Teams
Locations
How We Hire
Students
Jobs
Those are pretty self-explanatory so you can check that out and learn what those are for.
Using the Google Job Search Tool is not that complex; in fact, it's pretty much easy-to-understand because of the way Google presented it to people.
Are you looking for a job or a post in Google? Do you long for a position in this tech giant? Good news for many Filipino hopefuls who yearn to be a part of this company because they are bringing the "search party" to us!